Article Submitted by Laura Masbruch
Whitewater High School Robotics Advisor and Banner Volunteer
lmasbruch@wwusd.org
Whitewater High School's FIRST Robotics Team Ferradermis competed in the unofficial Wisconsin State Championship in Manitowoc at the Lakeshore Robotics Education Center on Saturday, July 10. The team's day ended in the semi-finals, with a hard fought battle that included the entirety of the Ferradermis alliance that won the first of four qualifier events on June 19, along with the captain of the runner-up alliance from that same day. The teams knew each other's strengths and weaknesses well.
After a long day dealing with a sudden and unusual component failure, the students rallied and put in a strong performance in each of their final two qualification matches. This left the team ranked 8th going into alliance selections, where they were selected as the first pick of Team 930, the Mukwonago BEARS. The third member of the alliance was Team 5903, the ThorBots, from Westby High School.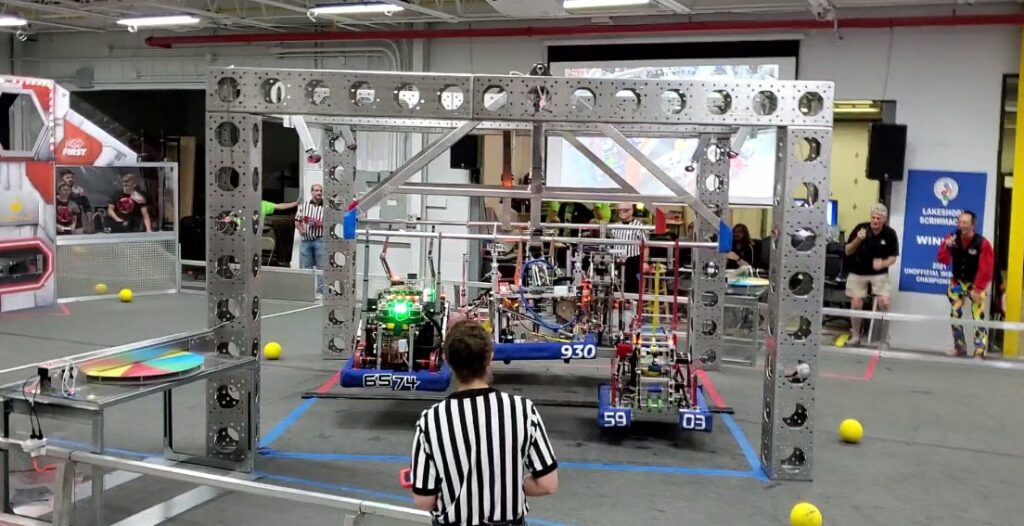 The Ferradermis alliance faced off in the semi-finals against the eventual state champion alliance led by Team 8002, The Knack, from Lake Country School. The Knack was joined by Team 1259, Paradigm Shift, from Pewaukee High School, and Team 6421, the WarriorBots, from Muskego High School. The highlight of the day was when the second semi-final match ended with a perfectly level double-triple climb, meaning that all 6 robots on the field pulled themselves up on the bars in the center of the field and held their shield generator switches in the level position.
The spirit of "coopertition" was strong in Manitowoc, as many teams pitched in to help each other out. Ferradermis would especially like to thank Paradigm Shift for loaning a gear kit and the Mukwonago BEARS for helping diagnose our component failure. It is always amazing to watch as teams who may soon be playing against each other on the field are working hand in hand to make everyone a stronger competitor.
Full results from the championship event are available at https://www.thebluealliance.com/event/2021wilscmp#results
Students in grades 9-12 interested in joining the team are invited and encouraged to attend the Laser Lights Off-Season Competition at Kettle Moraine High School with the team on Saturday, July 24, and/or join the team for our annual Robotics Boot Camp beginning on Saturday, July 31. Both events will provide an opportunity for students to learn more about the team and FIRST Robotics in general. For more information, contact Laura Masbruch at lmasbruch@wwusd.org.
On June 19, Ferradermis was pleased to do a Behind the Bumpers interview with Tyler Olds from FIRST Updates Now. Team members Andrew Rollette, Reilly Aschenbrener, Lauren Rollette, Elijah Grall, and Jazmin Cederberg took part in the interview where they explained the different features of the robot. You can watch our episode of Behind the Bumpers below: