Richard F. James has lived in Whitewater for 42 years. Many know him because he is the original owner of a 1964 Corvette that is driven in the July 4th parade each year. Many do not know that Rich served in the Air Force from 1966-69 in Vietnam, Korea, and Japan. He is very proud of his service. When he returned from service, many veterans were not honored. They were criticized for participating in the Vietnam War. Rich's life got busy. He got his doctorate, married Marcia, and fathered two sons. He taught in the College of Business at UW-Whitewater until his retirement in 2007; he continues his UW-Whitewater prairie initiatives as he walks the prairie each day with his Brittany Spaniel.

In 2014, Rich learned that the Badger Honor Flight was accepting Korean War Veterans for flights. He served as guardian for John Waldman whose wife Lila taught in the same department as Rich. He finally felt that people had rallied around and supported what the veterans had done for this country.

Although Rich put his name in for a flight for Vietnam veterans, he learned he was on a long list. However, medical circumstances allowed Rich and another veteran–one from WWII–to be on a corporate jet donated by Dan and Patti Rashke of the TASC Family Foundation that departed Madison at 7 a.m. December 2. Whitewater High School Graduate (1999) Griffin James served as his dad's guardian.

After a short ceremony attended by John and Lila Waldman, long-time friend Dee Simon, and Rich's wife Marcia, Richard and Griffin boarded the corporate jet. They spent the day touring the Marine Corps, Air Force, WWII, Korean War, Vietnam Veterans, and Lincoln Memorials. They were also to go to Arlington National Cemetery to view the changing of the guard ceremony.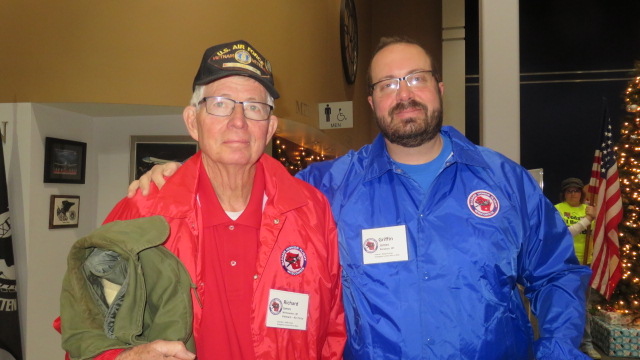 Pictured are Richard and Griffin James. Griffin is Baraboo High School's band director. He is married and has two sons.