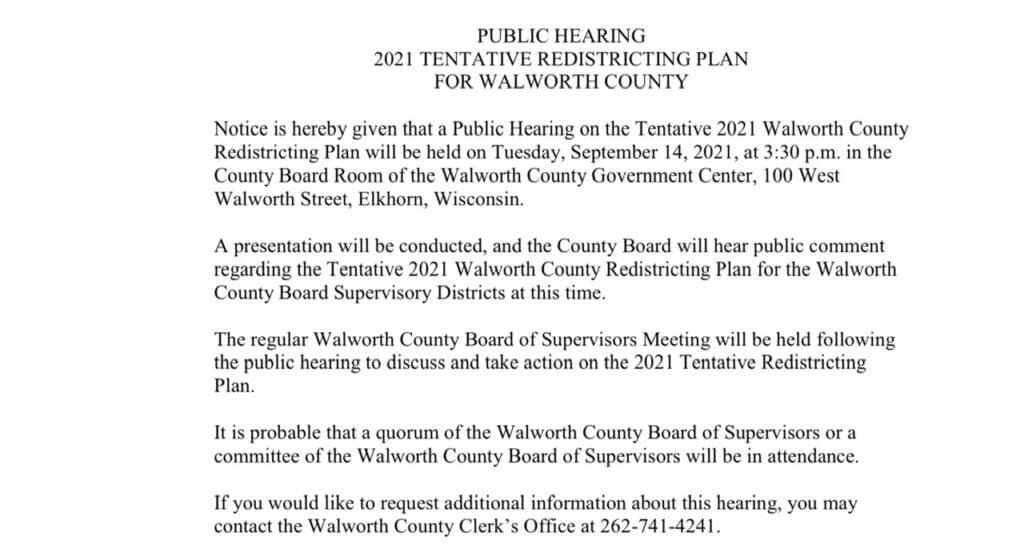 Banner note: Though the county's notice did not include the fact that this meeting would also be livestreamed, the following information is provided on the agenda for this Board of Supervisors meeting:
NOTICE: DUE TO THE CONTINUING PUBLIC HEALTH EMERGENCY, THIS MEETING IS PLANNED TO
PROVIDE FOR REMOTE OR OFF-SITE ATTENDANCE BY COUNTY BOARD MEMBERS.
The Walworth County Government Center remains open, but in-person attendance may be limited to help ensure appropriate social distancing is observed. ALL INDIVIDUALS ARE STRONGLY ENCOURAGED TO WATCH THE MEETING STREAMING LIVE AT https://mediasite.co.walworth.wi.us/Mediasite/Play/515e9c4541a84126a48b105c54a8d68c1d
Individuals wanting to provide a Public Comment can do so remotely by telephone, but must contact the County Administrator's Office at 262-741-4357 on the day of the meeting and at least 15 minutes prior to the start of the meeting to obtain instructions.