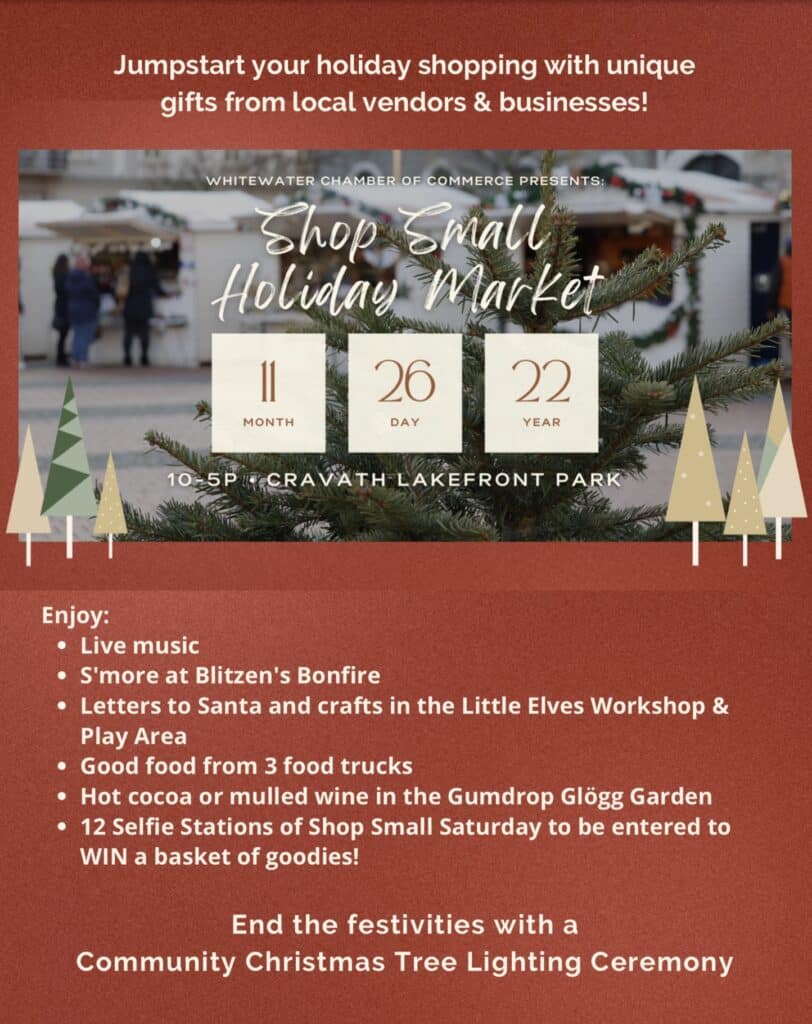 Whitewater Chamber and Downtown Whitewater, Inc. invite the community and visitors to the 1st Annual Shop Small Holiday Market & Tree Lighting event.
The Whitewater Area Chamber of Commerce and Downtown Whitewater, Inc. are happy to announce an exciting event to usher in the holiday season! They will be hosting the 1st Annual Whitewater Shop Small Holiday Market & Tree Lighting event on Saturday, November 26th from 10 a.m. to 5 p.m. Shop Small Saturday is the day during shop small season that we celebrate all things local! This event will be centered in Cravath Lakefront Park at 341 S. Fremont St. with over 30 local and regional vendors and entrepreneurs set up along the lakefront near the Cravath Lakefront Community Center building.
In addition to the market, attendees can enjoy live music from local students and artists, grab a s'more at Blitzen's Bonfire, let the kiddos write a letter to Santa and do crafts in the Little Elves Workshop & Play Area, enjoy tasty treats from three food trucks, and sip some hot cocoa or mulled wine in the Gumdrop Glugg Garden. Visitors to this festive event can also walk around downtown and enjoy a holiday tale with their family on the story stroll sponsored by the Irvin L. Young Library, visit with Santa, and ring in the holiday season with a tree lighting and high school carolers to close out the day! A full map of the event can be found here.
The Saturday after Thanksgiving is set aside each year to celebrate local businesses and many businesses in Whitewater will be offering deals and specials on this day only. The event also celebrates our local entrepreneurs by bringing local and regional vendors to Whitewater to help folks get a start on their holiday shopping. Don't forget to visit the 12 Selfie Stations of Shop Small Saturday to be entered to WIN a basket of goodies! For more details about this event visit the Chamber's event calendar page or follow the Facebook event page.
The Whitewater Area Chamber of Commerce looks forward to seeing everyone out celebrating the season and supporting local businesses at the 1st Annual Shop Small Holiday Market and Tree Lighting! For more information about this event or anything Chamber related please contact Kellie Carper, Exec. Director at (262) 473-4005.