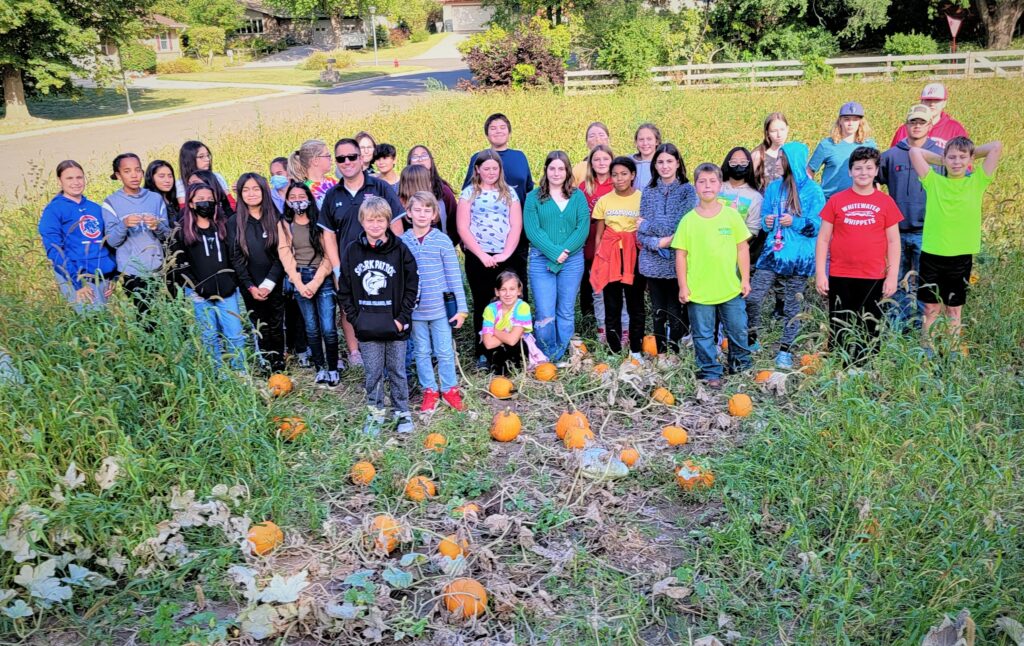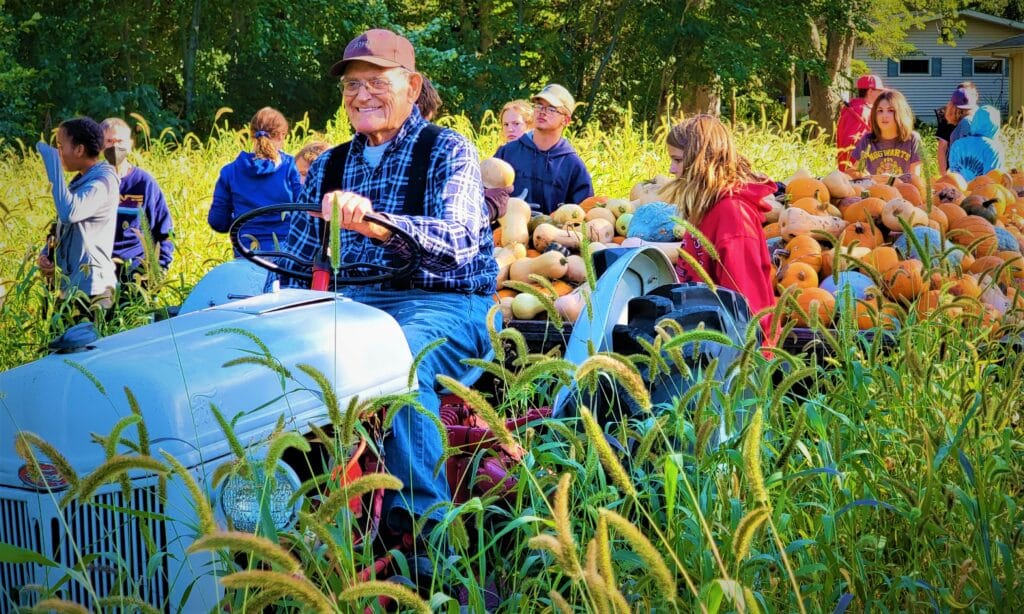 By Al Stanek
Whitewater Banner volunteer staff
whitewaterbanner@gmail.com
Needy families in Whitewater will soon have their choice of organic edible pumpkins and squash courtesy of the Whitewater Kiwanis sponsored Middle School 'Builders Club.'
Roughly three dozen Whitewater Middle Schoolers under the direction of Associate Principal and Kiwanis member Ben Holzem harvested the produce Wednesday September 22. After washing and inspection, the produce will be available at the Whitewater Community Space on East Milwaukee Street as early as this weekend.
Local organic farmer Rollie Cooper, another Whitewater Kiwanis member, provided equipment, seeds and oversight on the project. The pumpkins are mostly New England pie pumpkins which can provide both family fun as Jack-O-Lanterns and as a food source.
"The Builders Club provides our students with the opportunity of getting out into our community and serving others," said Holzem. "We are finding that it promotes leadership and good citizenship, and we are genuinely proud of them and their efforts." The group has 56 active members. Not all were able to attend Wednesday's harvest because of other after school activities.
The Whitewater Kiwanis Club is made up of volunteers interested helping children in the Whitewater community and the world. Along with supporting the Builders Club, the WHS Key Club, and a UW-Whitewater auxiliary group they have been instrumental in providing hundreds of thousands of dollars in projects that benefit area children and enhance Whitewater's quality of life.
Incoming Whitewater Kiwanis Club President Patrick Taylor stressed that 100 percent of funds raised go directly to projects with no raised funds used for administrative costs.  Each year, the club distributes approximately $20,000, with over half going to various Whitewater Unified School District programs.
Funds are raised through annual Pancake Breakfasts that have been served continuously since the 1950s along with yearly poinsettia and lily plant sales. The club is currently looking for additional members.
The Whitewater Kiwanis will be offering a free-will offering drive-through Pancake Breakfast sale this Saturday at the Whitewater City Armory on North Street in Downtown Whitewater. More information can be found on the Whitewater Kiwanis Breakfast Club Facebook page.