Article by John Schimming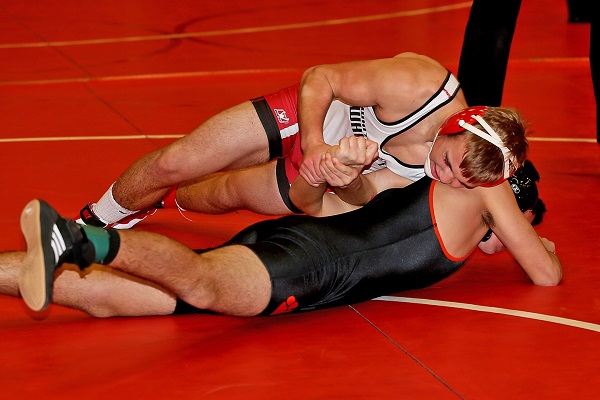 On Thursday, the students were back to school after their winter break and the wrestlers took the mat on Thursday evening to take on the Lasers from Kettle Moraine. The wrestlers were given some time off after participating in a competitive Mid-States Classic tournament that featured 42 teams, many of which were ranked as well as numerous state place winners from last season. This was a well deserved time off as the team wrestled their hearts out. Reaching day 2 and finishing in the top twelve were Marcus DePorter (12th), David Cushman (11th), Carter Friend (10th) and Amaru Casas (12). Well done by these four young men.
Thursday the team defeated Kettle Moraine by a score of 46-24. Kettle Moraine did forfeit a couple of weight classes but those student-athletes that they have are tough. Coming away with big wins for themselves was Trenten Zahn and David Cushman. Zahn took his state ranked opponent into overtime before Zahn was able to take him down to his back for a 10-5 victory. Cushman also defeated a very good opponent by a score of 8-4.
This victory pushed the team's record on the season in dual meets to 4-0. The teams next competition is on Saturday when they travel to Big Foot to participate in the Rock Valley Conference Duals. This will prove to be a big test for the team as they will have five dual meets versus; East Troy, Evansville, Edgerton, Jefferson and Turner. All five of these duals will be very competitive with many good student-athletes going head to head. Wrestling begins at 9:00 with the Whippets competing in the East Gym at Big Foot High School.