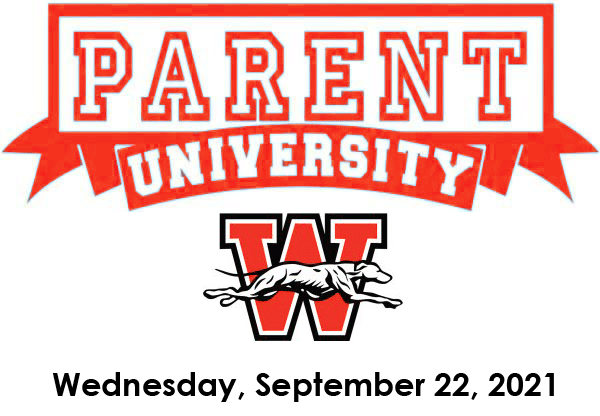 On Wednesday, September 22, Whitewater High School Staff will host the first annual Parent University addressing topics such as Redefining Ready, the new WHS Honors Recognition System, Advanced Placement courses, cybersecurity, Securly Home, digital parenting, using Infinite Campus, accessing mental health resources, school safety, understanding Early College Credit, getting to know Google Classroom, academic career planning/portfolio, the After School Study Center, youth apprenticeship, work study, and career certifications, clubs and activities, and scholarships. Staff will also be available for school tours and an open question and answer session.
WHO: Parents/Guardians of WHS students
WHEN: Wednesday, September 22, 2021, 4:00 pm until 7:30 pm
WHERE: Enter WHS through the main entrance, MPR/main gym entrance, or auditorium entrance, and someone will be there to help you find your first session.
WHAT: Check out the session descriptions and session schedule at https://sites.google.com/wwusd.org/whs-parent-university/home, and come for the sessions that interest you the most.
WHY: Learn about programs offered at WHS, get your questions answered about high school, meet the staff, and explore WHS!
Questions?
Contact Principal Mike Lovenberg at mlovenberg@wwusd.org or 262-472-8100.