The Whitewater Volleyball team traveled to Dodgeland for a tournament this past weekend. Teams we played were Naconia, Cambridge, Belleville, and St. Mary's. Our win loss record (1-7) did not tell the story, however.
"This was by far the best we have played to date. We are so strong defensively and in serve receive, we just don't have enough offensive threat yet to win the battles. Our defense and serve receive kept us in games all day, and we battled with every team," commented Coach Mary Kilar.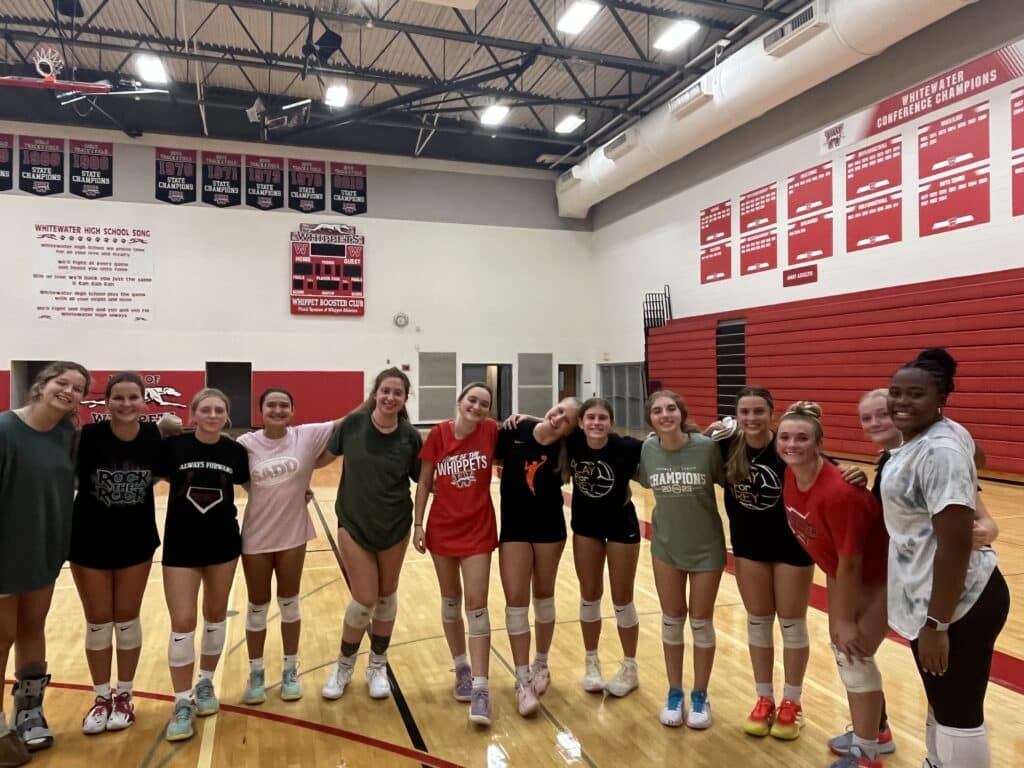 We have so much to be proud of on the day. Ella Spear was an absolute defensive threat at libero all day. "Ella has been working so hard in practice to learn and fine tune the technique and mindset of a libero. She passed an outstanding 2.4 on the entire tournament and had 34 digs, 5 assists, and an ace. She is such a student of the game, and I love to see when it comes together for her!"
Other outstanding passing performances came from Falyn Krahn, Zoe Kohl, and Ava Alvarado. Falyn and Zoe passed a 2.0 and Ava passed a 2.7! Falyn added 9 kills, 25 digs, and an ace, Zoe had 16 digs and an ace, and Ava added 15 digs. "The collective defense of Ella, Zoe, Ava, and Falyn brings us so much in the backcourt. They are beginning to read hitters at a higher rate and it is fun to see their grit on defense."
Marina Linos played a solid tournament and dished out 36 assists, 2 kills, 3 aces, and 12 digs. "Marina just continues to work hard. She knows her strengths and understands where she needs to continue to give effort to get better. She continues to lead positively."
Calli Grosinske led us throughout the tournament in many statistical categories. She finished with 27 kills, 6 aces, 10 assists, and 35 digs. "Calli knows the game, and how to help us get a side out offensively. Her shot selection continues to improve, and when she gets a ball she can connect on, she puts it away with force. It is nice to see the hitter/setter connection continue to improve." Calli battled through a slight blocking injury and was out for two sets. Stepping in for her was Kaia Jones. "Kaia had a tough role; she was pulled off the bench for an injured player to play outside hitter, and she did so with confidence. Kaia hit and served for us with 100% accuracy. We were all proud of Kaia's efforts!"
Sydney Schilt is playing opposite hitter for us and has really improved her knowledge of the off-blocker defense and making smart shot selections. "Sydney wants to soak in as much training and feedback as she can, and it shows. She works hard and is putting it all together on the court." She posted 4 kills and 6 digs for us.
Our middle blockers Emmanuella Mbifi and Meg Roselle continue to work hard in the middle for us. "Probably the hardest position in the front row is middle blocker; you are asked to laterally block every hitter and run a fast offense. Manny and Meg are becoming great forces for us! Meg posted 3 kills and 3 blocks, and Manny added 7 kills."
Savannah O'Neal "serves" her team as a serving specialist and posted 2 aces and only 1 error serving 96% accuracy. "This is the leadership in serving we need. I was proud of Savannah's focus behind the line!"
I was so proud of our team today. We battled through some ups and downs and played some solid team volleyball. Playing tough offensive teams sets us up to be prepared for future matches. I am looking forward to continued progress!
Next up, the Whippets travel to Monroe for a conference match up on Tuesday and travel to Jefferson on Thursday.
Article and Photo Submitted by Mary Kilar
Whitewater High School Head Volleyball Coach
mkilar@wwusd.org