Last week Thursday, December 1st, the Boys' Swim Team competed in the Southern Lakes Conference Relay meet. The boys had some AMAZING races!
In the 1000-meter Crescendo Relay, where each swimmer swims 100-200-300-400 respectively, the relay comprised of Andrew O'Toole, Cruz Aranda, Jack Hefty, and Tyler Arnett swam strong throughout the race. This strong performance led to a 3rd place finish and geared up the team for other mentally challenging races.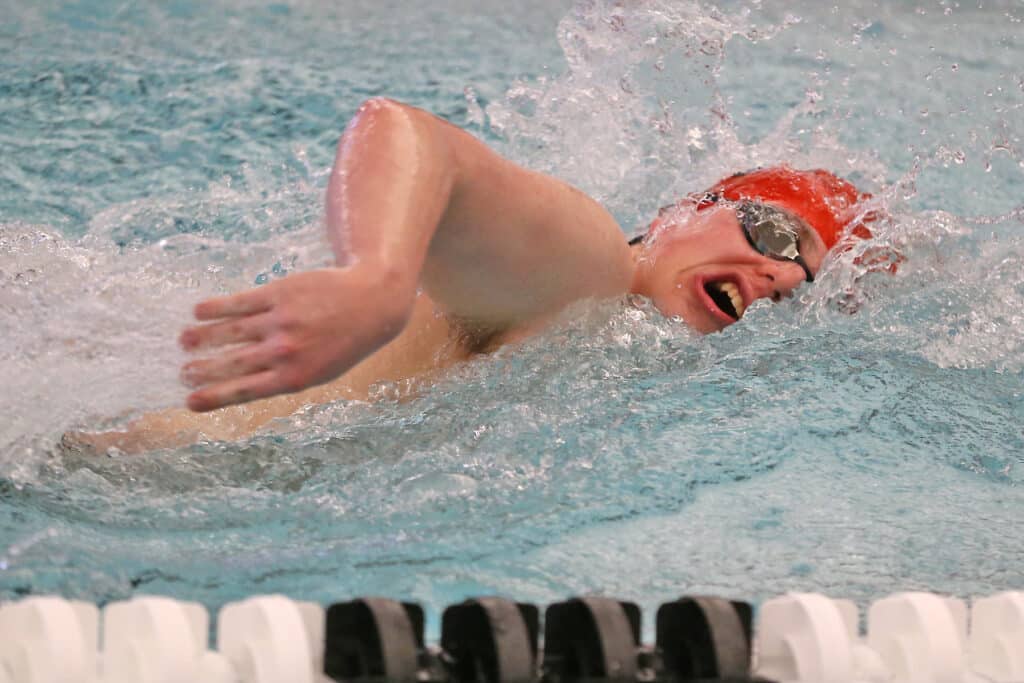 The splash and dash of the evening was an amazing event to watch! Each swimmer sprints one length of the pool for a total of 100 meters to find out how quickly they can get themselves up to speed. With just over 2 seconds separating 2nd thru 5th place, the boys were able to clinch 2nd place. Cruz Aranda led off the relay followed by Jack Hefty, Myles Morse, and then Tyler Arnett for a time of 58.01! David Enns, Xavier Zei, Onyx Thompson, and Sam Nickelsburg won their heat which was fabulous as well!
The 500-meter Crescendo Relay, 50-100-150-200, was the highlight of the night for the team. The boys came back from almost being a full length behind the 3rd and 4th place teams to taking the 3rd place medal position! There were a lot of fast swims at the beginning of the race and the swimmers' mental toughness allowed for them to come back strong. Miles Nickelsburg, Cruz Aranda, Jack Hefty, and Tyler Arnett came in with a time of 5:52.79.
Then on Saturday, December 3rd, the Whippet Boys' Swim Team competed at the 2nd Annual Tom Lieder Invitational in Milton. There was success for each swimmer in their individual swims, and two were able to grab hardware in their events.
Tyler Arnett started off by taking 3rd in the 200 Free. He out-touched the next person in the final yard of the race.  
Then Jack Hefty tied for 6th in the 100 Free with a time of 58.94. This was the first time Jack broke 1 minute in a 100 Free!
In the 500 Free, Tyler Arnett came on strong, and this was a grueling match-up from several swimmers from other teams. He was able to hold strong until the end; he finished first and again out-touched 2nd and 3rd place by less than half a second.
Other top 10 finishes were 8th in the 200 Medley Relay (Tyler Arnett, Cruz Aranda, Jack Hefty, and Andrew O'Toole), 7th in the 200 yard Individual Medley (Cruz Aranda), and 8th in the 200 Free Relay (Myles Morse, Xavier Zei, David Enns, and Miles Nickelsburg).
The boys swam fast and are looking forward to their next away meet against Edgerton/Evansville on Tuesday, December 6th.
Article Submitted by Sarah Reynolds
Whitewater High School Co-Head Boys' Swim Coach
sreynolds@wwusd.org
Photo Courtesy of Bob Mischka