Help support our public art project and enhance our community!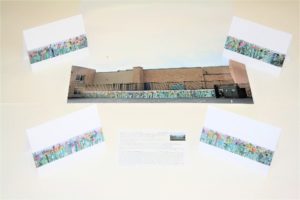 Washington Elementary School, Whitewater, WI
Our school has begun an outdoor regional landscape mural.  Three hundred native flowers were designed by current and former Washington students, grades 2 – 7, projected and painted at their own specific heights.  These transformed the lower wall of the mural site.   The note cards in this set contain these Wisconsin native wildflower paintings.
The next steps: Student drawn images on the upper walls will depict local city and rural areas, including Whitewater landmarks, flora, and wildlife. Also, sculptural facades of favorite east side landmarks, the water tower, wooden walk bridge, train, and the octagon house will accent the space.
Interested in sending 300 flowers to someone, while helping us fund the next steps in the mural?
Note cards depicting the lower mural wall are on sale.  The set of four 5" x 7" cards may be connected together to create the entire flower painting. An $8.00 set may be purchased at the Washington Elementary School office, 506 E. Main St. and at:  Jessica's Family Restaurant, Century 21 Realty, Home Lumber Co., Fort Community Credit Union, First Citizens State Bank, Premier Bank, Aranda, Mi Preferida, and at Crocus, in Cambridge, WI. Card proceeds help fund the project.
Contributions may be made to: WUSD Washington School Mural Fund.                                                     
Set of four note cards, envelopes, and postcard – $8.00
Cards can also be ordered by mail.   Prices for mail order card sets include shipping costs to anywhere in the U.S. are included below:
English:       Information         Order Form
Espanol:      Information         Order Form
For more information, visit: http://www.washington.wwusd.org/page/2867 or contact Mareta Hale, Washington Art Teacher, mhale@wwusd.org