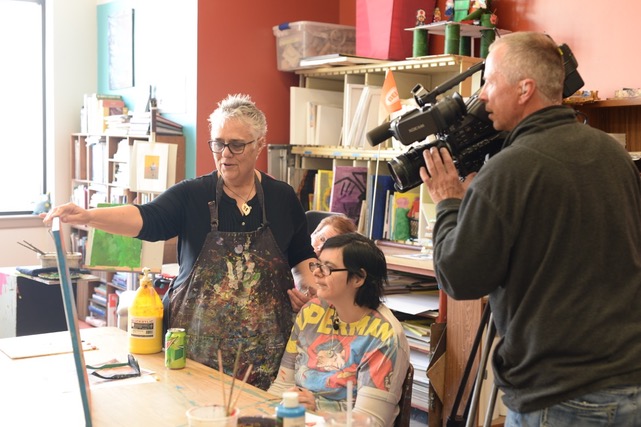 Deborah Blackwell is a recent local winner of the Jefferson Award for public service for her work at Studio 84. Blackwell is founder and director of Studio 84, a non-profit art studio, gallery and gift shop that specializes in the creative and vocational development of people with disabilities. Studio 84 has a creative focus on the abilities through the arts. It is located at 121 W. Center St. in Whitewater, WI.
The Jefferson Award recognizes dedication and service of volunteers who transform lives and strengthen communities across the United States. WKOW is proud to bring the Jefferson Awards to Wisconsin. The mission of the Jefferson Awards Foundation is to power others to have maximum impact on the things they care about most. Their programs and partnerships drive Americans to change their communities and the world. The Foundation was founded in 1972 by Jacqueline Kennedy Onassis, Senator Robert Taft Jr., and Sam Beard.
Each year WKOW selects a monthly winner from nominations submitted. Anybody can nominate someone on the Jefferson Awards Foundation website. At the end of their yearly cycle, which is the end of March, WKOW selects one of the twelve monthly winners to go to the national awards ceremony in New York.  From there, several national winners are selected from the many local and regional winners.  The selection committee at the national level includes numerous public figures such as Michael Douglas, Neil Simon, and Whoopi Goldberg.
Amber Noggle, anchor at WKOW, interviewed Blackwell and several artists at Studio 84 and the program will be aired on Sunday, March 18th at 10 pm. WKOW is ABC Channel 27.
You can learn more about Studio 84 at www.studio84inc.org or follow them on Facebook at www.facebook.com/studio84inc.