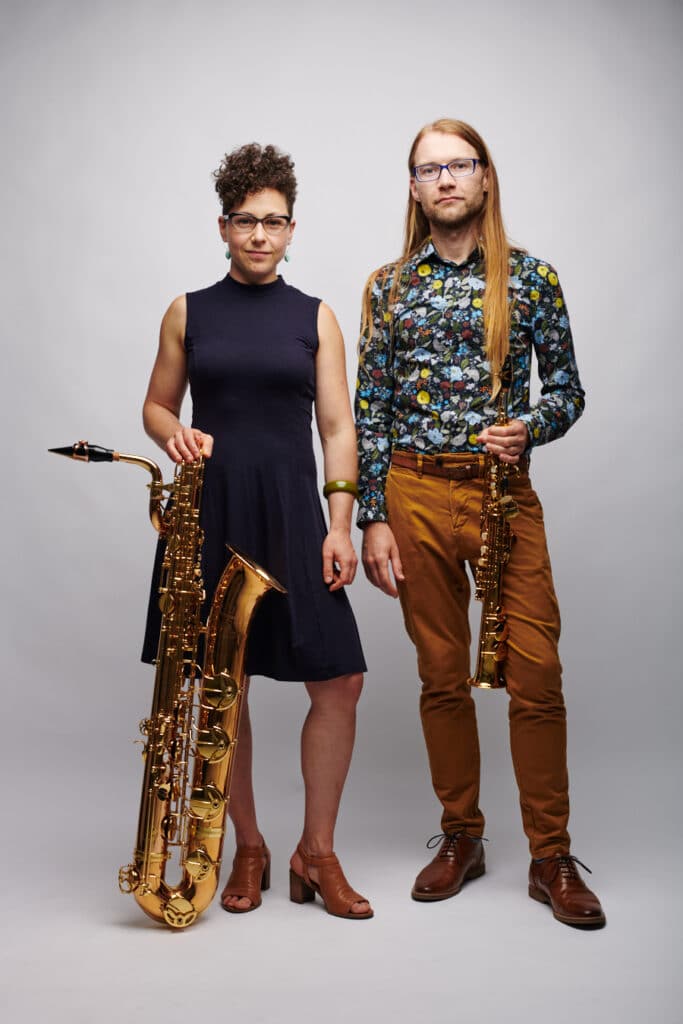 Editor's note: The following information was provided by the UW-W College of Arts & Communication, Dept. of Music
Sonict presents Ogni Suono Saxophone Duo
The University of Wisconsin-Whitewater is pleased to announce that Ogni Suono Saxophone Duo will be presented by Sonict on Tuesday, September 28, 2021 at 7:30 pm in the Light Recital Hall. Tickets are on sale and can be purchased online at tickets.uww.edu or by calling (262) 472-2222. Masks are required for anyone entering a campus building and each performance in the Light Recital Hall will have a social distance seating option. The Light Recital Hall is located in the Greenhill Center of the Arts at 950 W. Main Street, Whitewater, WI 53190. Do not come to campus if you are ill. For the most up to date campus safety information, visit the Warhawks are Back webpage at the link below. uww.edu/warhawks-are-back.
Formed by American saxophonists Noa Even and Phil Pierick in 2010, Ogni Suono is committed to expanding and promoting repertoire for saxophone duo by commissioning and performing new works. The duo values the longevity and repeated attention to new works over the novelty and revolving door of mass commissioning. Their debut album, "Invisible Seams," features some of the duo's first collaborations with composers. Supported by a grant from New Music USA, Noa and Phil launched "SaxoVoce" in 2015, commissioning works that explore the wide-ranging musical, dramatic, and theatrical possibilities inherent in the synthesis of saxophone and voice. From haunting whispers to nonsensical shouts, each composer uniquely integrates the human voice. Many of these works can be found on the duo's 2018 album, "SaxoVoce," on New Focus Recordings.
Ogni Suono celebrates ten years together with the premiere of /tele/path by Atlanta-based Singaporean composer Emily Koh alongside a retrospective of the twenty-some works commissioned by the duo from the past decade and Shelley Washington's BIG Talk. This includes selected works from our 2018 album "SaxoVoce" (New Focus Recordings) and our 2015 release "Invisible Seams". The full program includes "Two Broken Records: by Hong-Da Chin, "Chroma" by Chris Fisher-Lochhead, "BIG Talk" by Shelley Washington, "Dart: don't be his shadow" by Quinn Collins, "Walking After Midnight" by David REminick, and the world premiere of "/tele/path" by Emily Koh.
"The saying 'sound like a broken record' means to say something over and over again. In 'Two Broken Records', each saxophone is treated as a broken record that is constantly in a love-hate relationship with the other. Argument and harmony can be heard back-to-back, or even overlapped during the emotional interaction between these two mischievous broken records." —Hong-Da Chin
"Chroma explores a series of questions relating to color and time: Is color an intensive or an extensive phenomenon? Is our experience of color an instantaneous apperception or does it unfold temporally? At what temporal level do rational durational relationships create the experience of implied rhythmic striae? When does harmony become color and color harmony?" —Chris Fisher-Lochhead
"'BIG Talk' was written for two baritone saxophones as a personal response to the repulsive prevalence of rape culture that can be observed in catcalling and sexual harassment that female-identifying persons experience and endure on a daily basis. Many women experience these situations enough to psychologically alter their self-perception and their perception of others in a long-lasting negative way: fear, anger, depression—emotions that seep deeper into the self and permeate deeper into society. This unrelenting, churning duo is written to be somewhat of an endurance piece that incorporates all aspects of the body—the muscular ability to play the piece, the wind to power the horn, the focus to see it through… I carefully considered the everyday endurance of a constant barrage of physical and verbal abuse, how we as women bear the brunt of the cultural burden, how we are expected to silently maintain physical and emotional poise to align with many "social graces" and how sick of it I am. How sick of it we are. The piece, the poetry, and the visual components are all linked to send a very clear and targeted message: stop perpetuating rape culture by any and every means necessary." —Shelley Washington
"'Dart: the verb. don't be his shadow': In 2001 or 2002, when I was still living in Cincinnati, I went to see a Juilliard jazz trumpeter play a guest concert at the Blue Wisp. A local trumpeter showed up (presumably uninvited) to sit in. At one point an aging hipster, donning a beret and smoking a Black and Mild, got up from the bar and confronted the intruder while he was playing, pointing at him and saying, 'Don't be his shadow, man. Don't be his shadow.' And so much of the piece focuses on heterophonic close canons and near-unison playing, sometimes slipping into true unisons. The end of the piece quotes 'A Carrot is as Close as a Rabbit Gets to a Diamond' from Captain Beefheart's 1980 album Doc at the Radar Station." —Quinn Collins
"'Walking After Midnight' deals with the unsettling and mysterious phenomenon of somnambulism, or sleepwalking, as it's commonly known. The text for the piece's two movements comes from a pair of autobiographical stories by a friend of mine. For the past year or so, nearly everything I've written has been part of a massive evening-length cycle of pieces about sleep called Sleep Cycle. Each work in the cycle deals with a different sleep-related topic (sleep-talking, sleepwalking, dreams, lullabies, and lucid dreaming) and each is for a different instrumentation (singing flutist, singing saxophone duo, vocal quartet, singing string octet, and a sixteen-piece ensemble made up of all of the above musicians plus a percussionist). The first story is about my friend's childhood experiences of sleepwalking. In the absence of caregivers he could count on throughout a traumatic childhood, there emerged from within a support figure in the form of his own ghost—a floating Doppelgänger whose radiant smile provided him comfort and reassurance through it all. In the second story, my friend—now an adult—is the one in the supporting role, soothing and protecting his young son through his recurrent night terrors. The stories are a testament to my friend's resilience and courage, and I feel honored and grateful for his trust, his generosity, and most of all, for his continued friendship." —David Reminick
"'/tele/path' is dedicated to the saxophone duo Ogni Suono on the occasion of their 10th anniversary. The word 'telepath', made from the Greek roots 'tele', meaning distance, and 'pathos' meaning feeling, perception, passion, affliction, or experience, describes the duo's pandemic situation, and the circumstance of this collaboration—working together over a distance. The general form of the work echoes the trajectory of Ogni Suono's becoming—in the beginning, both saxophones are in close proximity on stage and play strictly in time together, but as the piece progresses, the saxophonists move further apart on stage, each playing more freely and soloistically, but still with the ebb and understanding of an established duo. " —Emily Koh
Ogni Suono has appeared on concert series such as Permutations (New York), Journeys in Sound (Boston), Frequency (Chicago), Sonic Circuits (Washington, DC) Outpost (University of California-Riverside), Switchboard Presents (San Francisco), nienteForte (New Orleans), Interference (Flagstaff), and SONICT (University of Wisconsin-Whitewater). The duo's international performances include a 2019 tour through China and Taiwan, the inaugural Singapore Saxophone Symposium, Romanian-American Musical Days Festival in Sibiu (Romania), Berlin University of the Arts, Felicja Blumental Music Center in Tel Aviv, Night of the Museums Festival in Budapest, and World Saxophone Congresses in Scotland and France.
S