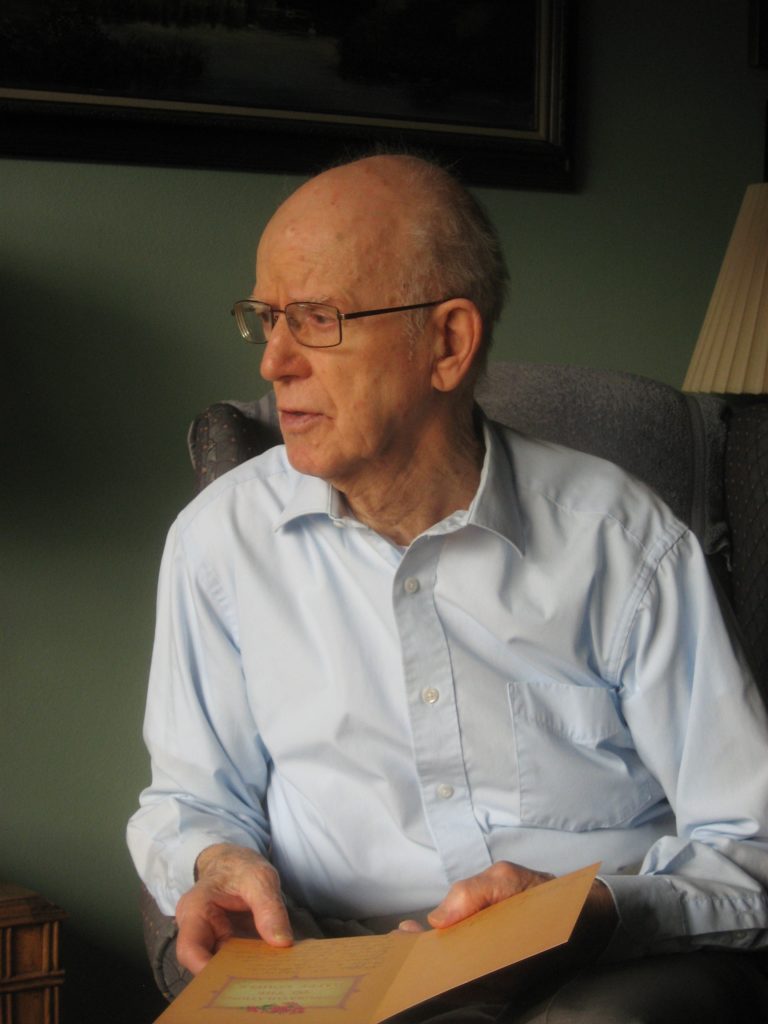 Robert Nelson Burrows passed away peacefully on April 14, 2020, at Hearthstone, Fairhaven, in Whitewater.  Bob was born on December 21, 1923, in North Reading, Massachusetts, the son of Frederick Nelson Burrows and Mary McIntosh.
Reared in New England, a veteran of four years' service in the Marine Corps in World War II, he was educated at Colorado College (B.A.); the University of Edinburgh (Scotland), receiving a Diploma in Studies in British Civilization; and the University of Pennsylvania (M.A., PhD. In American Civilization).
        After teaching at colleges and universities in Texas, Pennsylvania, Arkansas, Oklahoma, and Colorado, he served as Professor of English at the University of Wisconsin-Whitewater where he taught undergraduate English courses as well as graduate courses in Emerson and Thoreau, Melville, Steinbeck and Hemingway, Mark Twain, Wordsworth, Dickens, and Thomas Hardy.  In the undergraduate American Studies program his main research and teaching undertaking for a decade was a course in Contemporary American Society,   He also taught for one semester at the University of Klagenfurt (Austria) and for a year each at LaTrobe University (Melbourne, Australia) and Keimyung University (Daegu, South Korea).
        At UW-Whitewater he was granted the first David Saunders Award for Excellence in Teaching in the Humanities and The Roseman Award for Excellence in Teaching, and he was the recipient in the first year of the University of Wisconsin System's Regents Award for Excellence in Teaching.  His work as a Fulbright Professor in South Korea was recognized by the program's director:  "Dr. Burrows' contribution to the Fulbright program in Korea far exceeds that of any other Fulbright scholar in recent memory.  The quality of his contribution far outshines its quantity.  His lectures have illuminated and inspired, propelling his audiences beyond stereotyped images of American culture to fundamental human values."
        His publications include studies of major American authors, including Hawthorne, Whitman, and Mark Twain.  He also published a political novel, entitled "The Great American Parade."
Bob believed in what he saw as the best that is America, "which I define as a nation dedicated to fulfilling Lincoln's vision of our nation as one truly OF the people, BY the people, and FOR the people. Only to the extent that America takes to heart that vision are we true to the best that we should be." He supported civil rights and was a champion of freedom of speech during the Vietnam War era. Throughout his life he supported many liberal causes and ardently campaigned for Democrats.
        Bob met the love of his life, Marion, at a summer language program in Mayrhofen, Austria,  offered through the University of Innsbruck in 1950.  They were married February 24 ,1951, and began a life filled with joy and adventure.  In 2010, reflecting on their long marriage, Bob wrote, "My family has always been my central love and concern, especially my remarkable wife Marion and our four children—David, Mark, John, and Linda—along with their families, our six grandchildren, and our four great grandchildren."  He was an outstanding planner, both in his work and in his family life.  He especially enjoyed planning vacations, particularly camping trips to State and National parks across the country.  In 1967 he planned a marvelous 3 month camping tour of Europe and Great Britain in which the family camped the whole summer with their newly purchased VW bus and their new German tent.  Many other August vacations were spent wilderness canoeing and camping in the Quetico Provincial Park (Boundary Waters) in western Ontario.
Bob was a man with a deep and abiding faith. Forty-nine years ago, Bob and Marion joined a group of friends to found The Community of Christ the Servant, an interdenominational church in Whitewater with a strong commitment to social justice in the spirit of Christ's love and calling to serve humankind.
Bob is survived by his wife of 69 years, Marion, his son David (Lynn)  of Oriental, North Carolina, his son Mark (Ute) of Camden, Maine, his son John of Rockland, Massachusetts, and his daughter, Linda Jennings (Perry) of Peyton, Colorado,  6 grandchildren, and 4 great grandchildren.
        Due to the Coronavirus pandemic, a Memorial Service will be held at a later date.
        Memorial donations can be sent to the Robert and Marion Burrows English Scholarship Fund c/o UW-Whitewater Foundation, Inc., 800 W. Main Street, Whitewater, WI  53190.
         OR  Fairhaven Foundation, 435 W. Starin Road, Whitewater, WI  53190, designating the Fairhaven Benevolence Fund in memory of Robert Burrows.