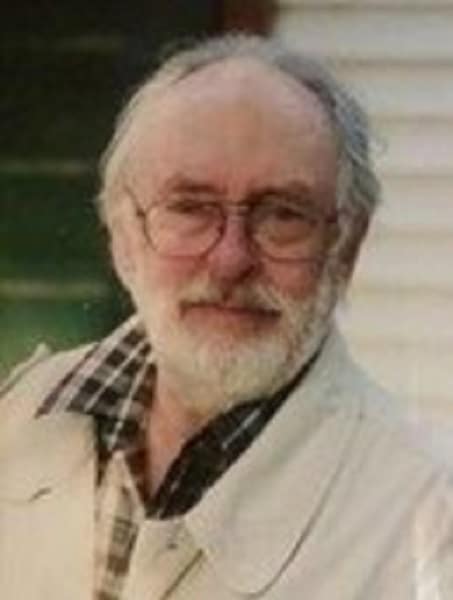 Raleigh Jay Williams
06/10/1928 – 12/29/2019
SPRINGFIELD—Raleigh Jay Williams, age 91, died at home on December 29, 2019, after a long illness. The youngest of four brothers, he was born on June 10, 1928, in Lincoln, Nebraska, to Jay I. Williams and Joy Riggs Williams. He grew up in Appleton, Wisconsin, where his father taught strings and directed orchestra. From an early age, Raleigh showed musical promise. Blessed with a fine tenor voice, he received formal voice training and landed his first leading role (HMS Pinafore) while still in high school. As a young man, he sang solo tenor roles in opera, oratorios and musicals in the Madison area. A lover of early music, he also learned to play obscure instruments, including lute, viol da gamba, and recorder, many of which he built and designed himself based on pictures he found in art of the period. He also taught others how to build and play these rare instruments.

Raleigh won a music scholarship to UW Madison but took a detour through the U.S. Air Force. He was accepted as an aviation cadet during the Korean War and earned his pilot's wings in 1953. After one year of service in Korea as a mosquito pilot, he trained army pilots for reconnaissance flying in San Marcos, Texas until completing his service in 1956. Upon resuming his education, he decided not to pursue music professionally, lest he spoil his delight in music by trying to make a living at it. He received his graduate degree in mathematics at the University of Wisconsin (UW) Madison and taught mathematics, followed later by computer science, at UW Whitewater for the rest of his career.

In 1957, he married the talented violinist, Rose Mary Pederson (Harbison). Until they parted ways, the couple lived on her mother's farm which later became the site of the Token Creek chamber music festival. In 1968, Raleigh married Tiiu Rodima (Gray-Fow), who was on the history faculty at UW Whitewater. They first had a dog Buster, followed by a daughter Susan in 1969. Both Raleigh and Tiiu were camping enthusiasts and often spent their summers canoeing in the Quetico or backpacking in the national parks. They flew everywhere in a 1941 Luscombe plane that he kept at an airport in Palmyra. Raleigh co-founded an early music group at UW Whitewater and later sang in an acapella chamber choir, the Sanborn Singers, where he met many lifelong friends.

Raleigh retired in 1990 and moved to Albuquerque, New Mexico, where he remodeled and sold houses with longtime friend JG, played viol in the Celtic Coyotes, and explored the area's ruins and canyons. In 1993, he married Nena (Moreno) Williams of Baquag, Philippines, who joined him in Albuquerque along with her daughter Sheela. A few years later, they moved away for health reasons, selecting their new home in Springfield, Oregon, because nearby Eugene is a hotbed of early musical activity and hosts an international Bach festival. While Nena worked, Raleigh kept busy with home repairs, doing tricky math problems, and napping with their two dachshunds. He played in the Eugene Recorder Orchestra and performed Elizabethan favorites with vocalist Alice Davenport. He started building vihuelas and built and flew model airplanes, including his hybrid creation—the flying mandolin—which he said flew almost as poorly as it played. In 2017, he presided over the first Williams family reunion in forty years, and the following year, celebrated his 90th birthday with nieces, daughter and close friends.

Raleigh had many talents and interests, but none who knew him can forget his sense of humor, raucous yet gentle, and often inappropriate. He was a born storyteller, spinning yarns for his nieces and daughter and delighting his friends with his fanciful tales. Wherever he went, people were drawn to his humor, resilience and charm. He confronted old age and its limitations with deliberate resolve, shedding old interests when necessary and focusing on what life could still offer him. He was a strong and cheerful spirit.

He was preceded in death by his parents; brothers Robert, Stanley and Donald; cousins Joan Rall and Leonard Williams; and nephew Charles. He is survived by his wife Nena; daughter Susan Williams (Bryan James) of Madison, Wisconsin, and step-daughter Sheela of Melbourne, Australia; nieces Catie Weldon, Sidney (Peter) Hulin, and Barbara Neri; nephews Chip, Dan, Bruce, Mark, David and Kim Williams; and cousin-in-law Frank Rall. The family would like to thank the caring staff at the VA home-based program; his companions Sonia, Vinny, Ashley and Sofia who brightened his last days; and his early music friends, including Lynne Coates, who did so much to help him stay active in music.
Donations in his memory can be made to the University of Wisconsin Foundation, payable to Madison Early Music Fund. To be notified when his memorial service is scheduled, please email Susan at raleighmemorial@gmail.com. For online condolences, visit forevermissed.com.
Please sign the guest book at www.registerguard.com/legacy