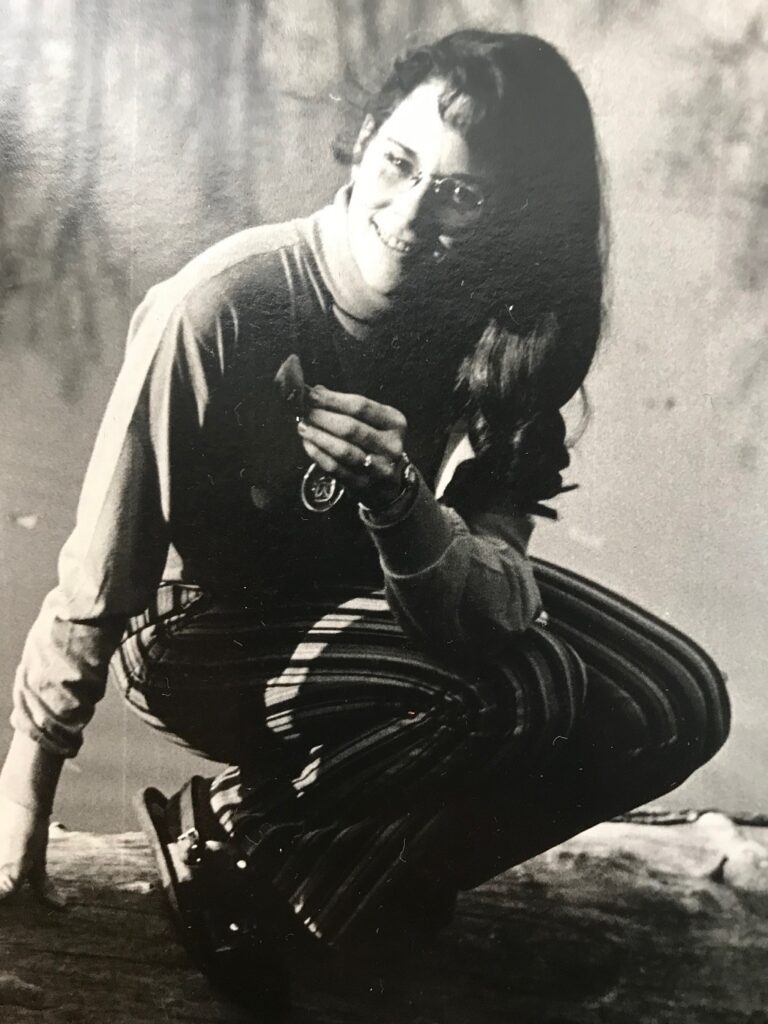 Virginia "Ginny" Hellenga died on August 3, 2022 in Knoxville, Illinois at age 79.
Virginia was born in LaPorte, Indiana on April 22, 1943 to John Ted and Hazel Minnie (Clifford) Killion. She grew up in Battle Creek, Michigan, and after graduating from Battle Creek High School studied at the University of Michigan, where she met her husband, Robert. After a year studying in Ireland, Virginia finished her undergraduate degree at the University of North Carolina. She juggled motherhood and career to complete her Master's Degree in Classics at Loyola University, commuting to Chicago every week while living in Galesburg with her husband and three daughters. She later received her teaching certificate from Knox College.
A poet and a scholar, Virginia was happiest when she was in the classroom. She was an influential Latin teacher who brought new life to classics departments throughout Illinois. She inspired her students to become their best selves during her teaching career at Carl Sandburg College in Galesburg, Trinity High School in River Forest, Monmouth High School, Monmouth College and Galesburg District 205.
In recognition of Virginia's contributions, Monmouth College renamed their Latin award the "Virginia K. Hellenga award for Excellence in Latin." After retiring from Monmouth College, Virginia became a beloved substitute teacher in Galesburg. She cared deeply about her students and brought positivity to them in challenging times. One student summed this up by saying, "She always put a smile on my face when I walked into class and saw her."
Virginia often posted poems and quotes in her classroom, including a Goethe quote that epitomized how she celebrated everyone in her sphere:
"If we treat people as if they were what they ought to be, we help them become what they are capable of becoming."
She had a letter posted on the wall from a former student who wrote about how Mom had changed her life, sharing this quote from Marianne Williamson:
"It is our light, not our darkness that most frightens us. We ask ourselves, who am I to be brilliant, gorgeous, talented, fabulous? Actually, who are you not to be?"
Mom believed everyone was radiantly beautiful and full of endless potential. She was a free spirit, and a source of support and encouragement to everyone around her, whether she was noticing their good qualities, celebrating their achievements, or thanking them for their good deeds. She did not accept limits based on gender. In our house, Dad was the cook, and Mom was the one you went to when you needed to rewire a lamp. She considered duct tape, WD-40 and a good pair of scissors to be as essential as food and water.
As her daughters, we want to talk openly about Mom's bipolar disorder. Mom gave us the book: An Unquiet Mind about living with bipolar disorder. The epilogue sums up what Mom wanted us to understand:
"I honestly believe that as a result of it I have felt more things, more deeply; had more experiences, more intensely; loved more, and been more loved; laughed more often for having cried more often; appreciated it—and life—more; seen the finest and the most terrible in people. But, normal or manic, I have run faster, thought faster, and loved faster than most I know. And I think much of this is related to my illness—the intensity it gives to things."
Everything around Mom was more vibrant, more spectacular, more intense, contrasted with darker, painful moments, too: bipolar episodes which caused great suffering. Through the light and the darkness, however, she gave us her unconditional love, allowed us freedom to grow, and always expressed her faith and confidence in us.
So, let us celebrate 79 years of an influential woman who made positive changes in many students', friends', and families' lives. Her greatest legacy can be found in the people she encouraged to recognize their own beauty, power, and self-worth. The words of poet Mary Oliver capture Mom's life message:
"Doesn't everything die at last, and too soon? Tell me, what is it you plan to do with your one wild and precious life?"
When she wasn't teaching, Virginia enjoyed biking on country roads, studying classics, exploring New Age philosophy, translating favorite short stories from Italian to English, and spending time with her grandchildren.
She married Robert Hellenga on August 31, 1963 in Battle Creek Michigan. He preceded her in death after 57 years of marriage on July 18, 2020.
Virginia is survived by her three daughters, Rachel Hellenga (Ben Good) of Elmhurst, IL; Heather Hellenga (Tom Colclasure), of Galesburg, IL; and Caitrine Hellenga (Tim Barker) of Orlando, FL, her grandchildren Harper Lee (Joshua) Lorentzson, Jackson Colclasure, both of Galesburg, and Braxton Farr of Elmhurst, IL. Virginia is also survived by her brothers Mead Killion (Gail Gudmundsen) of Elk Grove Village, IL and Whitewater, WI and David (Joan) Killion of Ludington, MI, as well as several nieces and nephews.
Her bright spirit is now free.
We would like to thank the caregivers who meant so much to Mom, especially Rebecca and Stephanie, who gave her daily support and friendship and the extraordinary staff in Betty's Garden at Courtyard Estates, who created a home away from home. In her last years, our mom benefitted greatly from the services of Western Illinois Home Health, Courtyard Estates of Knoxville, and Hospice Compassus.
Virginia has donated her body to science, and services will be held at a later date. Memorials may be made to Classics Day at Monmouth College. These gifts in her memory can be mailed to the Monmouth College Development Office, 700 E. Broadway, Monmouth, IL 61642.