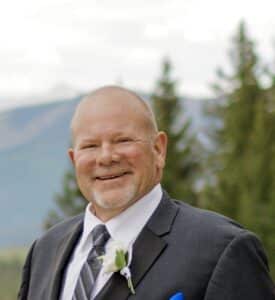 Todd D. Hansen, 61, passed away with his family by his side on September 23rd, 2023, after a courageous year and a half battle with neuroendocrine cancer.
Todd was born on December 20th, 1961, in Milwaukee, Wisconsin to parents Clarence and Faith Hansen. He was the eldest brother to three siblings Tracey, Troy, and Tyler Hansen.
Todd is survived by his loving wife and high school sweetheart Susan Hansen. They married on April 30th, 1983, and had three daughters Jennifer (Jared), Jamie (Matt), and Abigail (Scott).
Todd was a devoted father and grandfather. After having three daughters, he longed for grandchildren (especially grandsons). Todd's wishes came true, and he had seven grandchildren he absolutely adored and spoiled every step of the way: Gage, Ethan, Nolan, Luca, Amelia, Lydia, and Marlee.
Todd is also survived by many close friends and other relatives, including his family dog Benson.
Todd was a true outdoorsman. He enjoyed hunting, boating, fishing, and golfing. If you didn't see him in a tree stand or on the putting green, you would see him blasting tunes on the boat or spending time with his family at their home on Marco Island.
Todd's other passion was work. He was an entrepreneur and never afraid to take a risk or be challenged with something new. In his early years he started with Verlo Mattress and quickly expanded his successful business ventures. A few of these ventures included the Sportsman Channel, SWAT, and most recently Waypoint TV.
In addition to his love for the outdoors and passion for his work, he also really enjoyed music. Every genre of music! He was always playing something from one of his playlists and if he wasn't, he was most likely attending a concert with Susan and their friends. He attended well over 100+ concerts in his lifetime.
Todd has impacted so many lives and was extremely loved. He will always be remembered by his words of wisdom, generosity, and influence on so many. It is his family and friends that will carry on Todd's loving heart.
The family wishes to express their gratitude for the excellent care Todd received from the staff and volunteers at AngelsGrace Hospice in Oconomowoc.
In lieu of flowers the family requests memorial donations to the Neuroendocrine Tumor Research Foundation (netrf.org) whose mission is raising funding for this rare cancer to find more effective treatments.
Visitation will be held at Pagenkopf Funeral Home (NEW LOCATION: 2228 N. Silver Maple Lane, Oconomowoc, WI 53066) on Sunday, October 1st, 2023, from 12 p.m. to 2 p.m., with a service to follow. There will be appetizers and spirits after the conclusion of the funeral service at about 2:30 p.m.