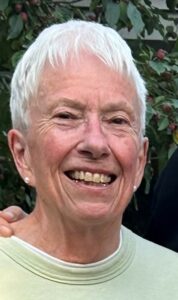 Susan Jean Stanley, 78, died of cancer at home in Prairie Village, Whitewater, Wisconsin, October 23, 2023.

Sue was born July 20, 1945, in Gladwin, MI, the first child of Stuart R. "Bud" Kirvan and Annalee Partridge Kirvan. Bud Kirvan was a newspaper man and later a well-known public relations executive and newspaper columnist, and her mother a registered nurse.

In her early years she followed her dad to numerous local high school games which gave her a lifelong love of sports. She attended several schools as her family moved around the state and graduated from
the University of Michigan High School in Ann Arbor in 1963 and Michigan State University in 1967. Her major was math and her minor geography. She was a member of the Alpha Delta Phi Sorority.

After teaching mathematics in Flushing and Southfield, MI for several years and earning a master's degree from MSU in 1971, she signed on to teach math with the Department of Defense Dependents Schools in Seoul, Korea. In her second year she transferred to Okinawa where she met and married Tom Stanley, a high school history teacher from Wisconsin, "a lucky break," Tom said. Together they taught in the Philippines, Japan, Korea and Germany before returning to the United States in 1989. Their son, Howard, was born in 1978 in Japan. In their two decades overseas, they traveled widely in Asia and also in Europe when completing round the world flights back to the States for summer vacation. Sue always said that next to marrying Tom, the best thing she ever did was to work overseas. They had many authentic overseas adventures.

Back on U.S. soil, Sue and Tom taught at Canterbury School, a small private institution in Fort Wayne, IN for the last decade of their teaching careers where Howard graduated in 1996.

In 1981 and every year afterwards, they summered in or around Bay View, MI near Petoskey where they moved full time in their first phase of retirement and where she embarked on a short but fruitful career as a teller and bookkeeper at First Community Bank in Harbor Springs. They moved to Whitewater in 2009.

Sue was extremely well organized and had an iron-clad sense of what should be done and how to do it. Tom once caught her signing a hotel register as "Mr. and Mrs. Susan Stanley," a joke but illustrative of their relationship. In more recent years she has used her executive powers to keep her two much-loved grandchildren shaped up. All said, she was tolerant and reasonable and a valued friend to many. Never a jokester, in her final days she surprised everyone with a sardonic wit that she kept hidden for years.

In her teaching days she often had taken the lead in organizing school projects such as graduation ceremonies and educators' days, all very well done as you can imagine. Always a popular and effective teacher, in retirement in Whitewater she found new ways to shine, active in local women's clubs, taking her turn in leading the never-ending effort to preserve one of Whitewater's distinguished old homes and in keeping track of and delivering "Meals on Wheels," and served as an enthusiastic volunteer at the Fort Atkinson Hospital. In addition, she was a veritable "Queen of the Bridge Table" and was a sympathetic and caring neighbor in Prairie Village and the Whitewater community. She was once named Fairhaven's "Resident of the Month" and was called the "Energizer Bunny." As a sports fan, she converted to the Packers long ago and the Brewers more recently from her Michigan teams. But she always held on to the MSU Spartans through thick and thin.
Sue was preceded in death by her parents, Stuart and Annalee Kirvan and is survived by her husband, Tom of Whitewater, son Howard, daughter-in-law Karrie and grandchildren Ryan and Kate of Chicago, siblings Anya (David) Jones of Boulder, CO, Nancy Kirvan of Petoskey, MI and Tom Kirvan of Birmingham, MI, nephews Andrew Harris and wife, Amy, of Longmont, CO, Jesse Kirvan of Park City, UT and Aaron (Mary) Peters and their daughters Leanna and Kennedy of Pinehurst, NC.

The family thanks the people of Whitewater and Prairie Village and other places they lived for being wonderful neighbors through her illness, and Rainbow Hospice, especially Nurse Kendra, and Nitardy Funeral Services, Whitewater. Special heartfelt thanks to Sue's sister, Nan Kirvan, who stayed with us during the three weeks of hospice care.

In lieu of flowers, contributions in her honor can be made to Rainbow Hospice Care. (https://rainbowhospicecare.org) or Project Mercy, a Christian, non- profit school located in Yetebon, Ethiopia. (https://www.projectmercy.org/)

Respecting her wishes, there will be no public services. There will be a family scattering of the ashes at the Greenwood Cemetery in Petoskey in the summer of 2024. Online condolences may be made at
www.nitardyfuneralhome.com