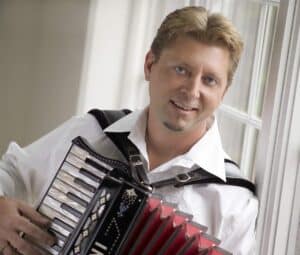 Steven Alan Meisner, 62, of Whitewater, WI passed away surrounded by his loving family on Thursday, June 1, 2023, at Meriter Hospital in Madison, WI following a brief illness.
Steve was born on April 17, 1961, in Beloit, WI to LaVerne and Judith (Kutz) Meisner. He married Barbara Lindl on May 19, 1985, at First English Lutheran Church in Whitewater.
Steve was a multi-talented musician, entertainer, composer, and arranger who traveled the country and world with his band. He first picked up a squeezebox at age five. After mastering the accordion, he took on the trumpet, tuba, bass guitar, button box, and occasionally drums and banjo. During his over 50-year career he performed with the nation's top accordionists, polka icons and musicians, sometimes averaging over 250 performances annually. He has either produced, performed on or created nearly 50 projects, including LPs, CDs, singles, jingles, commercials, movies, and videos – including appearing as a guest on other artists' recordings. He appeared in two movies, countless times on radio and on national, regional and local television. His tireless effort resulted in numerous awards from nearly every polka and ethnic organization including the International Polka Association (IPA), National Cleveland-Style Polka Hall of Fame, Wisconsin Polka Hall of Fame, Wisconsin Area Music Industry (WAMI), Iron World Polka Hall of Fame, Maryland Accordion Club, and many others.
If he wasn't entertaining audiences with his music, he was spending time with his wife, 3 children & 6 grandchildren, working on his many classic cars, enjoying life on Whitewater Lake, by the pool or on his boat, bird and squirrel watching from his favorite couch in his sunroom, or having a Korbel at his tiki bar with family and friends. His immense love for his family and friends was unmatched. He was always willing to help anyone out in time of need, give sound advice, answer any question or just listen and talk. Everyone knew that Steve was a true friend and would always be there for them. He was a surrogate father and brother to so many as well as a true one-of-a-kind friend to all. As such his care for all had lovingly been dubbed "MeisnerCare" by those close to him.
He is survived by his wife Barb Meisner, Whitewater; children Whitney Meisner, Whitewater, Lindsey Meisner (Nik Martin), Whitewater, Austin Meisner (Madison Holverson), Whitewater; siblings Daniel Meisner, Vashon, WA and Michelle (John) Bush, Milton. He is also survived by his grandchildren Evan, Jacob & Rosalia Copeland (Whitney Meisner) along with Sam, Eli & Jack Martin (Lindsey Meisner & Nik Martin). He was preceded in death by his parents.
A celebration of Steve's life will be held at a later date to be determined and posted on his website www.stevemeisner.com. Online condolences may be made at www.nitardyfuneralhome.com