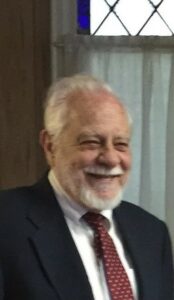 Ronald R. "Ron" Bergsten died at home in Prairie Village, Whitewater, Wisconsin, on November 8, 2023.
Ron was born in DeKalb, Illinois, on January 29, 1939, the youngest of three sons born to Soender and Ruth Bergsten.
For the first eight years of his education, Ron attended the training school at Northern Illinois University, then called Northern Illinois State Teachers College. After attending four years at DeKalb Public High School, he returned to NIU, where he obtained Bachelor's and Master's Degrees in Physics. He met and married his wife Nelda while at NIU. The couple celebrated 61 years of marriage last June.
He taught briefly at The Citadel in Charleston, South Carolina. However, he was not comfortable with the climate in that area and sought employment in the Midwest. He was an Associate Professor of Physics at the University of Wisconsin-Whitewater for thirty years, serving as Department Chair for the last three years of his tenure in the Physics Department. He was a much respected and beloved professor by his students, as he was always willing to go "above and beyond," especially in working with students in independent study.
Ron's dearest love, after his family, was bowhunting, and he was quite successful at it, getting his first deer in northern Michigan when he was just fourteen years old. He hunted every year until he was well into his 60s, and got over 40 deer during that time. He also enjoyed fishing, and he and his wife, Nelda, spent two weeks every year at Red Lake, in northwestern Ontario, pursuing that sport.
Ron was also a gifted woodworker and handyman. He completed several remodeling and improvement projects on the home near Palmyra that he and Nelda purchased in 1965. He also built a large garage, which included a three-season sun room overlooking the pond created by a flowing well on the property, a two-car garage, and a large shop facility in which he could pursue his love of woodworking. He singlehandedly did all of the work on that building, including electrical and heating aspects, except that the cement foundation and driveway were poured professionally. He also built fine furniture, including two hutches which have graced their home for the past forty-plus years.
Ron was also an avid hiker and dog-lover, hiking/walking 25-30 miles every week, which included three miles or more every day walking the dog, and a weekly outing with a hiking group.
Ron loved all aspects of wildlife and especially appreciated birding. He built the duck houses that grace the ponds in Prairie Village. He also built a shelter for a memorial bench near the garden in Prairie Village.
After Nelda's retirement, the couple spent a full summer touring Alaska in a small camping trailer and accompanied by their dog Cody. That same year the couple enjoyed their first of eight years as "winter Texans," camping at Texas state parks in a fifth-wheel camping trailer and accompanied initially by their dogs Cody, and later Aki.
Ron was preceded in death by his parents, his brothers Neil Warren Bergsten and Lenn Alan Bergsten. He is survived by his wife, Nelda, of Whitewater; daughter Carmen and son-in-law Bevo LaRue of Panama City, Panama; daughter Vicki and son-in-law Howard Brantmeyer of Reedsburg, Wisconsin; granddaughter Jasmine Brantmeyer and Elijah Torres, and grandson Nicholas and Emily Brantmeyer; and great-grandchildren Cameron, Eli, Autumn and Aurora Brantmeyer, all of Stoughton, Wisconsin.
In lieu of flowers, contributions may be made in Ron's honor to the Humane Society of Jefferson County, or the Lakeland Animal Shelter.
Respecting his wishes, there will be no public service. A private memorial service will be held at a later date.
Nitardy Funeral Home is assisting the family with arrangements. Online condolences can be made at www.nitardyfuneralhome.com