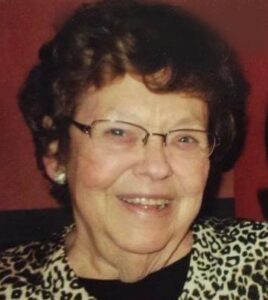 Nancy L. Nelson age 86, of Milton, WI passed away peacefully on Tuesday, November 29, 2022. She was born on November 8, 1936, to J. Charles and Signe (Nordeng) Jones in Janesville, Wisconsin. Nancy graduated from Janesville High School, attended UW-Madison, and finished her education in Radiologic Technology at Rockford Memorial Hospital. She then married Thurlow Nelson on July 23, 1960. After pursuing her career as an X-Ray Tech, she moved on to focus all her time to family, raising their two children Julie and Charles (Chuck). Nancy then went to work at Jones Dairy Farm, where she retired after 25 years of service.
Nancy loved music and could play a variety of instruments, but her real passion was loving and caring for people. You would always find her in the kitchen fixing something for family and friends. Her kitchen was open anytime day or night.
Nancy (Ama) loved being a part of her grandsons' lives whether it was attending their sporting events, having them stop by for a delicious meal or just a simple text or phone call. Ama's boys were her pride and joy. She also loved her Norwegian heritage and enjoyed making and eating her favorite foods like Lefsa and Rosettes. Her faith and love for God was also an important part of her life.
Nancy is survived by her loving husband Thurlow, children, Julie (Randy) Salem, and Charles (Connie) Nelson, grandchildren Christopher and Brady Nelson, and Zachary Salem, brother Donald (Kathy) Jones and special nieces and nephews. She was preceded in death by her parents.
Nancy and her family have a great appreciation and love for all the incredibly special caregivers, wonderful friends and extended family who helped her and were a big part of her life.
Visitation time will be from 10:30 a.m. to 12:30 p.m. on Saturday, December 17, 2022, at the Albrecht Funeral Homes & Cremation Services, Milton. The Albrecht Funeral Homes & Cremation Services, Milton is assisting the family with arrangements.