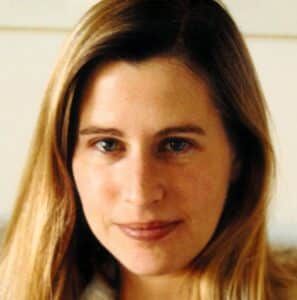 Marcia Light Pomplun, age 66, passed away on Sunday, September 10, 2023, at UW Hospital in Madison with her devoted husband by her side. Her passing followed a valiant battle with a sudden, devastating illness.
Marcy's courage and determination over her last three weeks were unsurprising to those who knew her. For years, she had been stoic and uncomplaining about the multiple sclerosis (MS) that had progressively robbed her of her mobility and imposed other limitations and chronic pain. Her intelligence, kindness, sense of humor, and deep love for her family always shined through despite her health challenges.
She was a loving mother to sons Sam and Nick and their partners Colleen and Nina, and a warm, attentive grandmother to Silas, Cora, Ellis, and Sunny. Her interests included hiking in the National Parks when she was still able, as well as art, literature, music, Jeopardy, dogs, nature, and progressive causes. She was a big fan of the Milwaukee Brewers and the UW volleyball and basketball teams.
Marcia Light was born March 30, 1957, to the late Raymond and Zenobia Light in Whitewater, Wisconsin, where she grew up. Known as a talented musician and pianist, she graduated from high school near the top of her class. Marcy earned a bachelor's degree in bacteriology from the University of Wisconsin-Madison in 1979.
She married her high school sweetheart, Steve Pomplun, in August 1979. They lived in Janesville, Sun Prairie, and Black Earth before buying a 1904 folk Victorian house on Madison's near-east side in 1989, which they restored over the next 26 years and in which Sam and Nick grew to adulthood.
Marcy was an accomplished and collaborative science professional who spent her career in research at UW-Madison. After working in a bacteriology lab for many years, she took a position at the Carbone Cancer Center, performing high-level analyses in support of Phase I cancer research. She retired in 2015 due to the progression of her MS. She and her husband moved to a more accessible home near New Glarus in 2015.
She is survived by husband Steve, sons Sam (Colleen Frey-McGovern) and Nick (Nina Knorr); grandchildren Sunny, Silas, Cora, and Ellis; brothers Mark (Vicki) Light and Alan (Kathleen) Light; siblings-in-law Tom (Georgene) Pomplun, Nancy (Dave) Cummings, Alan (LeeAnn) Pomplun, and Kris (David) Doorn; many beloved nieces and nephews; lifelong friends Anna DeWind Walls, Marsha Beste, and Kari Fox; and countless other heartbroken relatives and friends.
At Marcy's request, memorial services will be small and private. Please consider memorial donations in Marcy's name to the National Multiple Sclerosis Society or the Dane County Humane Society.