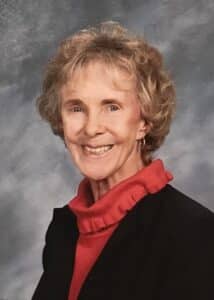 Lois A. Coleman of Hawk Springs, WY, formerly of Whitewater, WI, passed away peacefully on Saturday, December 3, 2022 at Aurora St. Luke's Medical Center, Milwaukee, WI at the age of 87.
She was born on March 7, 1935 in Madison, WI, the daughter of the late Edwin C. and Ruth H. (Pahl) Kunze. She and her sister were raised on the west side of Madison in a Bauhaus-style home that was designed by her father. She attended Crestwood Elementary and Madison West High School. Lois earned her B.A. in English from the University of Wisconsin-Whitewater.
Lois held many varied positions throughout her life. She was administrative secretary to the Wisconsin Legislative Council in Madison. Later, she worked as a corresponding journalist covering local news and was also employed by State Long Distance Telephone Company in Elkhorn. She subsequently served in the Walworth County District Attorney's office, where she was instrumental in starting a program for children whose parents were prosecuted for crimes. Finally, she was a Labor Relations Specialist for the U.S. Post Office in Milwaukee. She was an active member of Our Savior Lutheran Church of Torrington, WY and First English Lutheran Church of Whitewater, WI.
Lois was very active, loved the outdoors, and hiked in the woods in all seasons. She enjoyed many family vacations to destinations in the U.S. and Europe. Each year she looked forward to a large Christmas celebration in her home. Lois loved her family and was grateful to God for the opportunity to have had a long life.
Lois will be sadly missed by her husband Charles and five children: Steven Coleman; Michael (Kathleen) Coleman; Scott (Regina) Coleman; Kristi (Edward) Coleman; Casey (Melissa) Coleman; many grandchildren and a great-grandchild. She is further survived by her sister Betty Stacy, and other relatives and close friends. Lois was preceded in death by her son Carson Coleman.
Visitation will be held 1:00-2:00 p.m. followed by a funeral service at 2:00 p.m. on Thursday, December 8, 2022 at the First English Lutheran Church, 401 W. Main Street, Whitewater, WI with Pastor Joseph O'Donnell officiating and Pastor Jerald Wendt assisting. Burial will be at Mt. Pleasant Cemetery, Tibbets, WI.
Memorials may be made in Lois's name to: Hawk Springs Community Building Assoc., Treasurer Wendy Blackos, 5947 Road 32, Hawk Springs, WY 82217. Arrangements completed by Haase-Lockwood & Associates Funeral Homes & Crematory of Elkhorn, WI.