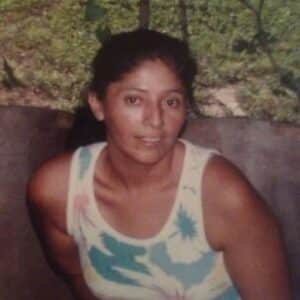 Guadalupe "Lupe" Clemons, 68, of Fort Atkinson passed away on Wednesday, August 16, 2023 at Fort Memorial Hospital.

Lupe was born on August 28, 1954 in Brownsville, Texas to Diego and Raquel (Chica) Mayans. She grew up with 11 siblings in Brownsville, traveled the country, and finally settled in Wisconsin around 1995. Lupe worked in different fields as a nurse aide, and in food processing industries.

She loved doing hand crafts such as lamps and spinners for family and friends all around. Lupe enjoyed a life of dancing, being around family, and always being with friends. She loved her cats, Oreo and Midnight.

Lupe is survived by siblings, Reynaldo (Carol) Mayans, Ninfa Mayans, Norma Mayans, Raul (Leticia) Mayans, Maria (Anthony) Mayans, Sara (John) Mayans, Gilberto (Irma) Mayans, Elida (Alfonso) Mayans, Gilbert (Ana) Hernandez; God-daughter, Jada Mcleod; many nieces and nephews.

She is preceded in death by her parents, Diego F. and Raquel Mayans; husband, Steve Clemons; brother, Everaldo F. Mayans; sister, Giselda Garcia; Tio, Juan Guerrero; and Tia, Olivia Villalon.

At Lupe's request, there will be no formal services.

The family would like to give special thanks to Doctor George and the staff at Fort Memorial Hospital for their exceptional care for Lupe.

Donations can be made in Guadalupe's "Lupe's" name to cancer research organizations of one's choosing.

Nitardy Funeral Home is assisting the family with arrangements. Online condolences can be made at www.nitardyfuneralhome.com
Editor's note: updated on 8/30/23 to correct birthdate.