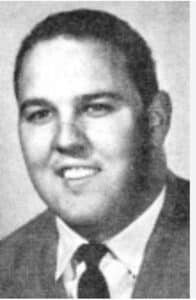 E. Greg Kent of Alamo, California, passed away peacefully at his home on Sunday morning, September 10, 2023, after a yearlong battle with aggressive prostate cancer. He remained pain free and cared for 24 hours a day by Beverly, his wife of 59 years.
Greg was born July 18, 1943, in Elkhorn, Wisconsin and raised nearby in Whitewater. Greg lived an amazing life; accomplishing much in his 80 years. Greg was a graduate of the University of Utah in Salt Lake City, and played offensive tackle for their 1964 Liberty Bowl winning football team. After playing in the 1965 East West Shrine game, Greg went on to play for the Oakland Raiders and Detroit Lions and began accumulating real estate.
In 1970, Greg moved his family to settle in Alamo, California. Soon thereafter, he established California Custom Carpets, Inc. in Dublin, California. He could be found in his office in Dublin, managing the business and adding to his real estate portfolio every day until he became ill a year ago. Today, his considerable real estate holdings scattered across the West Coast, stand as a testament to his work ethic, constant drive and lifetime of incredible success. In the last 25 years, Greg became especially proud of the Buckeye Ranch, an old California ranch, he purchased in 1988. Greg spent a considerable amount of time and effort developing the Buckeye Ranch into a working cattle ranch and an enjoyable get away spot where he and his family spent many weekends.
But what really set Greg apart from the crowd throughout the years, was a benevolent larger-than-life personality and a willingness to quietly help those in need. Quick to tell an interesting story or funny joke, he was blessed with a character and presence that drew people to him, and a kindness that created many deep long-term friendships. He will be missed by his friends at the Alamo Coffee Shop, the "Once a Month" sporting clay shoots, Ducks Unlimited, Big Piney elk hunts, on the streams and lakes across the West, and at the Buckeye Ranch. Most profoundly, he is loved and will be missed by his wife, Beverly, son Brad, daughter Stephanie, son-in-law Brad, and two grandsons, Clayton and Chase.
May God hold him close, give him a great seat at the poker table, and put him in the best duck blind heaven has to offer! E. Greg Kent, a BIG MAN, with a BIG HEART; he lived a BIG LIFE and left a BIG LEGACY!!!