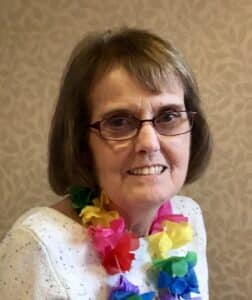 Debra "Deb" A. Heiber, of Roscoe Township, IL, passed away on October 2, 2023, at the age of 70 years, at the University of Wisconsin Hospitals and Clinics following complications from surgeries. She was with family members and comfortable at the time of her passing.
Deb was born on October 16, 1952, in Gary, Indiana; the daughter of Curtis H. and Alice M. Yule. She married Gary L. Heiber on May 27, 1972 in Elm Grove, Wisconsin. She graduated from Brookfield Central High School in Brookfield, WI. She received her Bachelor of Arts Degree in 1974 from Creighton University, including 3 years studying at Marquette University. Deb majored in English, minored in Spanish and received her secondary education teaching certification. She completed her Masters Degree in English and English Composition in 1978 at Marquette University. She continued taking many classes in Educational Administration, and had been in the educational field from 1974 until February 2016, 41 ½ years. Deb's major positions were with the UW Center System/Rock County from 1982 to 1990. Then UW-Whitewater from 1990 until 2016. She was involved with developing many advising programs at Whitewater; first in the Registrar's Office and then as Director of Advising in the College of Letters and Sciences.
Deb received 4 Academic Staff Excellence Awards at Whitewater. She was a founding member of WACADA (Wisconsin Academic Advising Association). They were a State Association of NACADA (National Academic Advising Association) founded in 1979. Deb was President-Elect of WACADA in 1997/98 and was President in 1998/99. She has received the 2002 WACADA Leadership Award. From NACADA, Deb received a Certificate of Merit in 1989, and in 1998 an Outstanding Advising Program Award, and in 2003, the Outstanding Advising Administrator Award.
Aside from advising students, Deb and Gary were longtime Marquette University Men's Basketball fans, holding season tickets from 1970 to present, with the exception of three years when they lived in Nebraska. Deb spent many years following her son Mike's activities in sports and music. After he was off to school, Deb became a part-time jewelry maker and sold jewelry in southern Wisconsin and northern Illinois, until her health interfered in 2021. She also enjoyed her time with her yoga group from North Pointe and was always an avid reader.
Deb is survived by her husband, Gary Heiber; her son, Michael "Mike" (Alyssa) Heiber of Cedar Park, TX; granddaughters, Mia J. and Clara V. Heiber of Cedar Park, TX; her sister, Christina (Phillip) Lear of Dade City, FL; and many extended family members and friends.
She is preceded in death by her father, Curtis H. Yule; and her mother, Alice M. (Yule) McGrew, who recently passed in 2021; two premature twins, Douglas and Emily, (who lived only a few days in 1981); her mother and father in-law, Carolyn and Donald Heiber; and her stepfather, James McGrew.
A memorial service will be held at 3:00 p.m. on Tuesday, November 21, 2023, at SCHNEIDER FUNERAL HOME, 1800 E. Racine St., Janesville, WI, 53545; with a meal being served immediately following the service in the LIFE CELEBRATION CENTER at Schneider Funeral Home. For online condolences and guestbook, please visit: www.schneiderfuneraldirectors.com
Deb's family would like to give a special thank you to the Palliative Care Floor at the University of Wisconsin Hospital. Additionally, an extra thank you to Kate and Tom Heiber-Cobb for their support in her last days and in helping organize her memorial service.