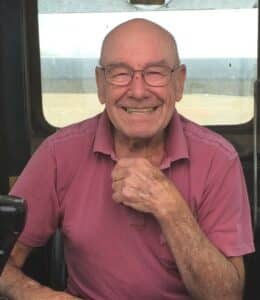 David Neal Triebold (DT), 85, passed away after a brief illness on August 14, 2023. DT lived and died in the comfort and beauty of the hilltop home he built and decorated, on Engel Road in Whitewater. David was born in Illinois on April 21, 1938, to Frederic and Mildred (Stecher) Triebold, and was the youngest of seven children.
The Triebold family moved to Whitewater WI in 1949, purchasing the Engel Road farm from Leslie Engel, the man who would eventually become DT's father-in-law. David enlisted in the Army National Guard, proudly serving until his Honorable Discharge in September 1962. He married Laura Millis Engel (Lollie) on October 26, 1963. Jointly, DT and Lollie purchased the family farm, subsequently adding surrounding farms to their acreage. Together, they raised three daughters: Kathleen Ann, Kristine Ruth, and Karla Jane.
David was a farmer his entire life. He began as a dairy farmer, but as that discipline began to take a toll on his body, he transitioned into cash crop farming, raising corn and soybeans. With the unproductive land, he developed subdivisions with the idea that their borders be left natural, encouraging the formation of wildlife bridges. In addition to farming, he was a master at buying houses, gutting them, remodeling them, and renting them out. He was a jack of all trades and a master of many.
DT taught his three girls many life lessons, molding them into strong independent women of which he was very proud. He encouraged and supported his daughters' obsession with horses, which, truly in his mind, was just a way to keep them close to home and away from trouble. It was a successful lesson. It was also important to him that each of the three knew how to change a tire; how to change their own oil, whether it be in a car, truck, or tractor; how to stack a straight mow of hay; how to drive any piece of equipment on the farm; how to nickel and dime a starter out of a Case 400 tractor; how to turn a wrench without busting a knuckle while tearing the engine out of a Case 2470 TK; how to pick rocks while chugging a warm beer; how to swim; how to work the soil, plant the seeds, harvest the bounty, and market the crop; how to cook a mean beef tenderloin; how to enjoy a Friday night fish fry with friends and family; how to dance the polka; and finally, how to smile and say "Thank You."
During his life, David was known as an impulsive risk taker, as well as an independent thinker. When he was a youth, and was told by his mother to stop using his new welder and come in for supper, his response was "Catch me if you can!" When told he couldn't do something, his response was, "Watch me!" When given directions to take a right-hand turn or a Ralphie, he'd take a left or a Louie. His life's mantras were, "If it's going to be, it's up to me."; "Do you know where to find sympathy? It's in the dictionary between s** and syphilis."; and, when discussing a project or dream, he'd say, "Make history of it."
Dave and Laura indulged in their love of adventure and travel, both domestically and internationally. Their destinations included most of the 50 states, the Caribbean, Central America, Canada, Europe, Australia, New Zealand, China, Japan, Thailand, and Russia. For the past 20 years, Torremolinos, Spain became a favorite wintertime destination. DT had a gift for striking up a conversation with anyone, anywhere, sparking friendships with people from around the world. Many new lifelong friends were invited to visit and share his home, where he would introduce them to the varied and unique treasures which he obsessively collected from around the globe. DT enjoyed reliving the stories of how he'd haggled and bartered for these fine objects. He was an anomaly who loved shopping.
David was preceded in death by his wife Laura in 2021; his parents; his sisters: Dorothy, Aileen, and Shirley; his brothers Frederic (Fritz) and Richard. He is survived by his three daughters Kathleen (Jeff) Markham, Kristine (Phil) Welter, and Karla (Jeff) Mortara; grandchildren Jeremiah (Jess) Markham, Josephine (Wyatt) Bennett, Kristina, Alexandra, Keira, and Andrew Mortara; brother Donald Triebold; sister-in-law Judy Triebold, as well as many other cherished family members and friends.
In DT's honor, a traditional "Triebold Farms Party" will be held in the Summer of 2024. It will be reminiscent of all the summer parties and weddings that he loved to host on the farm.
Memorials for David should be sent to iHOPE (www.yai.org/iHOPE), the Lauderdale LaGrange Fire Department or Rainbow Hospice.
The family would like to thank Rainbow Hospice and the wonderful caregivers who were a part of his life.
Nitardy Funeral Home is aiding the family. Online condolences may be made at nitardyfuneralhome.com