Albert Leroy Gapp
May 16, 1947 – August 19, 2023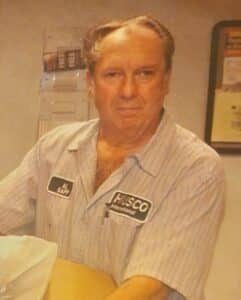 Albert L. Gapp, 76, of Alton, Missouri, formerly of Whitewater, Wisconsin, left this earthly world to be with his Lord and Savior on August 19, 2023. Al was born on May 16, 1947 to Albert and Phyllis (Wambold) Gapp of Eagle, Wisconsin, the the eldest of 10 children. He was a graduate of Mukwonago High School and worked as a self-taught auto and diesel mechanic and in maintenance before retiring from Husco as a mechanical assembler.
Al was a mechanical genius from a young age. His loving mother Phyllis joked of having to warn an 11 year old Albert that he had one too many car engines hanging from their trees. He was a General Motors man who loved old cars and owned several classics, a couple of which he trailered back from out West. He owned two auto repair shops in his lifetime, owned a racecar at one point, and in his free time was either tinkering on something or attending a swap meet or rummage sale in search of car parts and tools. Al was a lifelong outdoorsman who loved hunting, fishing, and trapping. He didn't shoot a deer for its "rack," but rather for its meat, and because of this was always giving out venison to family and friends. After retiring, he moved to Missouri to fulfill his dream of owning a place in the country. He spoke of the simple freedoms this afforded him such as no longer being "harassed by the City" for having a lawnmower in his yard and for being able to shoot a deer out his window and not have to drag it home.
Al formed many friendships throughout his life and will be remembered by many for his kindness, intelligence and sense of humor. He was a man of strong character who stood up for what he believed in and he supported many charitable causes.
Al is survived by two daughters, Julie Gapp, of Fort Atkinson WI, and Sara Gapp, of Palmyra WI, two grandchildren, Casey Alwin and Addison Alwin of Palmyra, 7 siblings, Sherry (Bob) Krenz of West Plains, MO, Michael Gapp of Doniphan, MO, William (Judy) Gapp of Dousman, WI, Bruce Gapp of Whitewater, WI, Daniel Gapp of Thorpe, WI, Carolyn Piasecki of Eagle, WI, and Christine Fuller of Waukesha, WI, an Aunt, Eunice Rowe of Whitewater, and many cousins, nieces, nephews, and treasured friends. He was preceded in death by his parents, brothers Russell and Paul Gapp, and son-in-law, Marty Bakke. No funeral service will take place per his request; however, a celebration of life will be planned for family and friends at a later date.