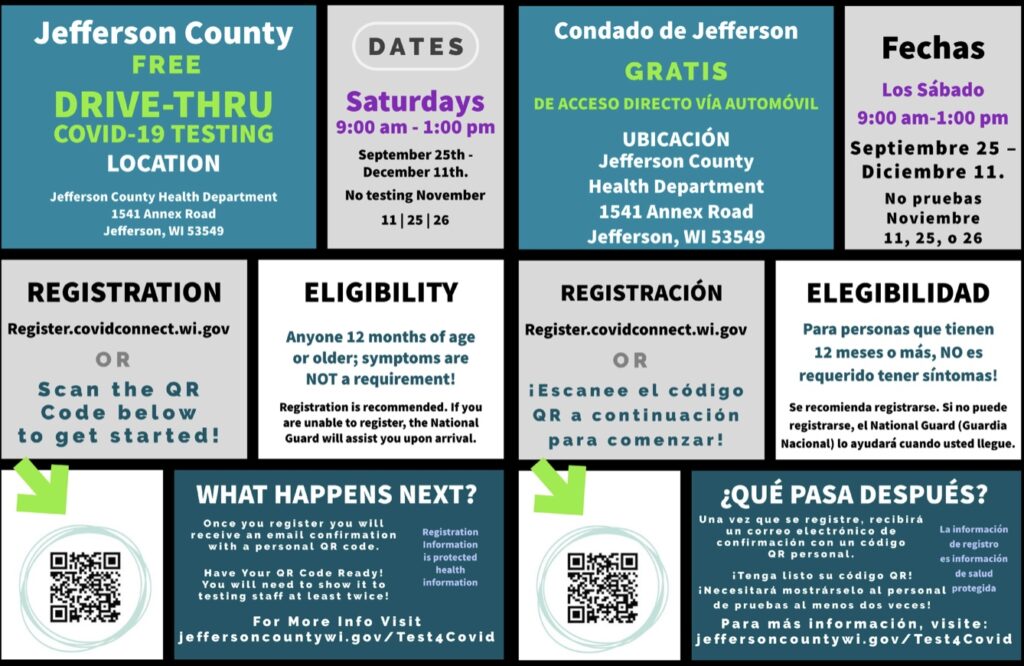 Starting this Saturday, the Wisconsin National Guard is returning to Jefferson County to help boost access to testing for SARS-CoV-2, the virus that causes COVID-19.
PCR testing will be available at the Jefferson County Health Department every Saturday from Sept. 25 to Dec. 11 from 9 a.m. to 1 p.m. The Jefferson County Health Department is located at 1541 Annex Road, Jefferson.
Pre-registration at https://register.covidconnect.wi.gov is recommended, but not required. Anyone 12 months of age or older is eligible for testing.
County health officials say that persons with any signs or symptoms of COVID-19 should get tested, regardless of vaccination status. Those who get tested because they have symptoms or were potentially exposed to the virus should stay away from others pending test results and follow the advice of their health-care provider or a public health professional.
The following individuals should get tested:
• People who have symptoms of COVID-19.
• People who have had a known exposure to someone with suspected or confirmed COVID-19.
• People who are fully vaccinated should get tested three to five days after exposure, and wear a mask in public indoor settings for 14 days or until they receive a negative test result.
• People who are not fully vaccinated should quarantine and be tested immediately after being identified, and, if negative, tested again in five to seven days after last exposure or immediately if symptoms develop during quarantine.
• People not fully vaccinated with COVID-19 vaccine who are prioritized for expanded community screening for COVID-19.
• People not fully vaccinated with COVID-19 vaccine who have been asked or referred to get testing by their school, workplace, healthcare provider, state, tribal, or local health department.
People who have tested positive for COVID-19 within the past three months and recovered, as long as they do not develop new symptoms, do not need to get tested after a known exposure to COVID-19.
Health officials remind the public that COVID-19 vaccines are very effective at preventing illness, hospitalization and death.
"Wisconsin surveillance data clearly support this and show the surge in COVID-19 cases continues to be driven by cases among people who are not fully vaccinated," said Jefferson County epidemiologist Samroz Jakvani. "Vaccination is the best way to protect yourself, your family, and your community from COVID-19."
To find a COVID-19 vaccination site, visit www.vaccines.gov, text your zip code to 438829, or call 211.
People also may call (844) 684-1064 or (800) 232-0233.
Many pharmacies (Walgreens, CVS, Walmart, or your local pharmacy chain) might offer walk-in vaccinations. Call ahead to ensure availability.