Editor's note: The following information was provided by Lutherdale.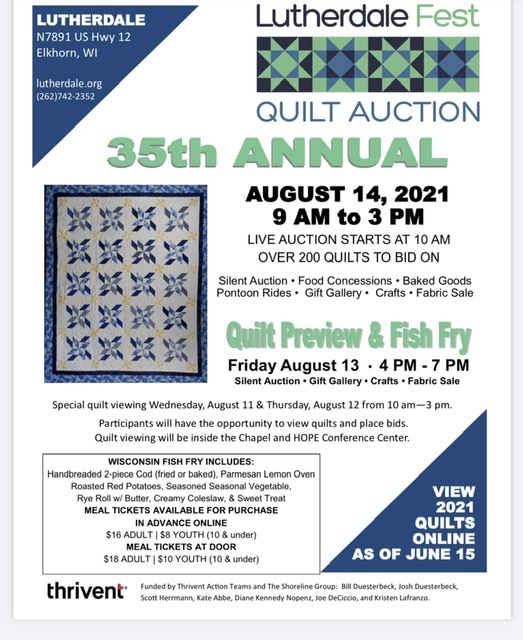 Everyone is invited to the 35th Annual Lutherdale Fest Quilt Auction on Saturday, August 14, 2021. This outdoor event runs from 9 am – 3 pm or until all the quilts are sold. The quilt auction, conducted by professional auctioneer Gary Finley, starts at 10 am. More than 300 donated quilts of all sizes, from baby to king size, wall hangings and table runners, were handmade by hundreds of quilters from Wisconsin, Illinois, Idaho, and Florida. Some are completely hand quilted. View the quilts on-line at https://www.lutherdale.org/quilt-auction?page=3. Silent bids are welcome online as well.

Special Quilt Viewing will be available on Wednesday, August 11 & Thursday, August 12 from 10 am –3 pm with silent bids accepted on quilts. Viewing will be inside the Chapel and HOPE Conference Center. Masks will be required inside the buildings for quilt viewing.

Quilt Preview will be Friday, August 13 from 4 pm – 7 pm with silent bids accepted on both Quilts and Silent Auction Items. Our Wisconsin Fish Fry will be available for inside & outside dining or carryout. Meal tickets are $16/adults and $8/youth 10 & under. Online silent bidding for Quilts ends Friday, August 13 at Midnight.

On Saturday, our Chef is serving a menu with a BBQ sandwich, potato salad, baked beans, applesauce, cookie and bottled water for $10.00. There will also be an ala carte menu of brats, hot dogs, turkey wraps, popcorn, candy, snacks, and beverages. All food will be served near the auction area from 10 am – 3 pm. In addition, free Pontoon rides will depart every 30 minutes from our docks on the beautiful Lauderdale Lakes.

Special opportunities, both Friday night and Saturday, include:
– Silent Auction with gift certificates from local area businesses, theme baskets, and specialty items.
– Gift Gallery with homemade items, honey, maple syrup, clothing, and baked goods.
– Table sales filled with craft supplies, fabric, patterns, and other notions at great prices.

Funds raised from this event are being supplemented by Thrivent Financial Action Teams and the local Thrivent Financial Shoreline Group: Bill Duesterbeck, Scott Herrmann, Josh Duesterbeck, Kristen Lafranzo, Kate Abbe, Diane Kennedy Nopenz, and Joe DeCiccio.

Lutherdale Bible Camp is located at N7891 U.S. Hwy 12, just 7 miles north of Elkhorn, Wisconsin, on the Lauderdale Lakes. Free admission. Free parking.
For more information, call Lutherdale at 262-742-2352 or visit website at www.lutherdale.org

Lutherdale Bible Camp is a not-for-profit organization, accredited by the American Camp Association, serves all denominations, non-profits, school groups, and more.