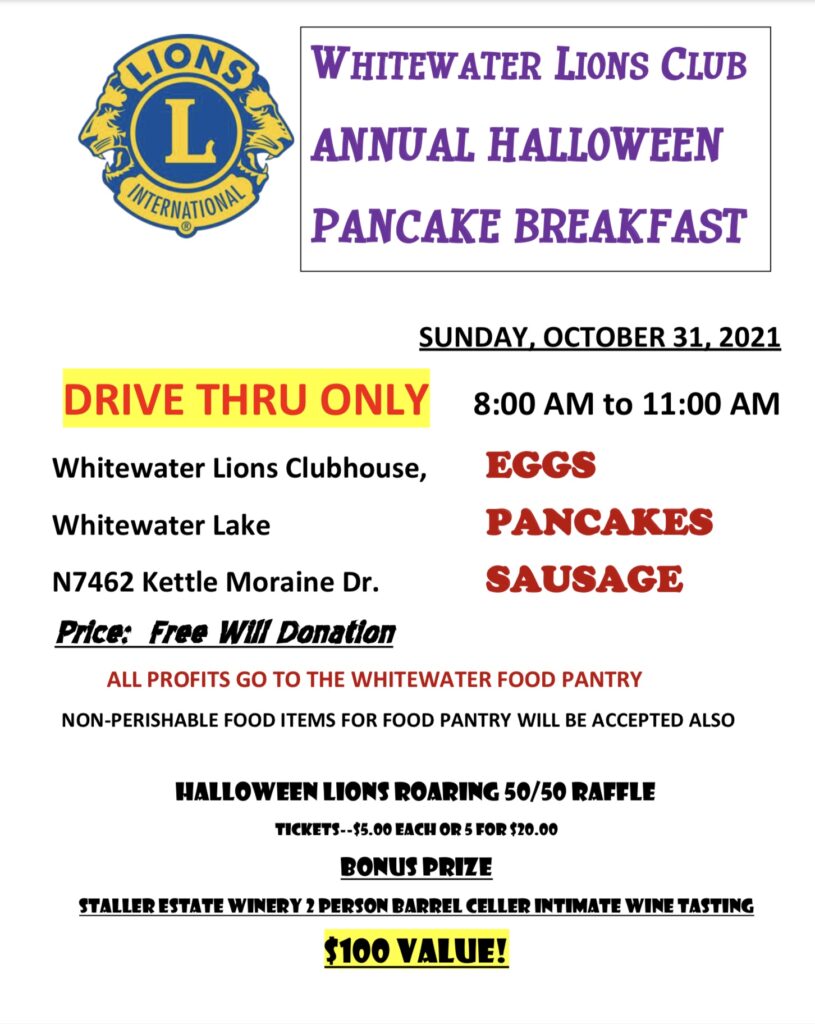 You know it's October in Whitewater when the members of the Whitewater Lions Club are fixin' and mixin' their famous pancake batter.  Sadly, with another increase in cases of the COVID-19 Virus, we will again have to forego our beautiful in-clubhouse settings.  This year, on Sunday October 31th  the Lions will be hosting another Drive Thru Pancake Breakfast.  As always, the profits will be donated to the Whitewater Food Pantry.  The golden-brown pancakes, delightful fluffy scrambled eggs and delicious sausages will be prepared, packaged and handed to you as you drive through the Lions parking lot at N7462 Kettle Moraine Drive.
The Drive Thru will be open for business from 8:00 AM to 11:00 AM.
THANK YOU for your generous free-will donations. 
Make checks payable to the Whitewater Lions Club.  We will also be accepting non-perishable food items for the Whitewater Food Pantry. 
In conjunction with the Lions Club Drive Thru Breakfast, the Whitewater Lions are conducting a 50/50 Raffle that includes a bonus prize. The winner of the second drawing will win an intimate Barrel-Celler Wine Tasting for two at the Staller Estate Winery, Delavan. (A $100 Value!) Tickets are $5 each or 5 for $20. Tickets are available at the breakfast or contact any Whitewater Lion or Lion Larry Runoe at (262) 473-3076.
Drawing will occur at the Lions Meeting to be held on November 9, 2021.