On April 25th, 2018, Whitewater High School held its annual High Honors Recognition Night, honoring students with cumulative grade point averages of 3.5 and above.
The evening began with a dessert reception followed by a program in the auditorium.  The high school was honored to have 1984 WHS graduate Andrea Kreft as keynote speaker. Ms. Kreft is the principal of John Muir Elementary School in Madison. Her message to students was to be proud of Whitewater High School and the community, experience diversity, savor the moment of being in high school, continue to achieve at a high level, hold peer relationships near and dear, and that perhaps one day in the not so distant future, one the students in the audience may be giving a very similar speech.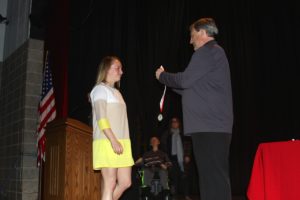 Following Ms. Kreft's keynote address, students were recognized on stage.  Sophomores through seniors received commemorative bronze, silver, and gold medals.  Freshmen received a certificate of achievement.
This was the fourth annual High Honors Night and was proudly attended by more than 300 students, family, and community members.