What a day to be a Whippet! Both the boys' and girls' CC teams dished out incredible efforts on Saturday, October 23 on the challenging terrain that the course at UW-Parkside offers. A combination of three things contributed to their strong day. First was their mental toughness, secondly, the culmination of the season's work, and lastly, favorable weather conditions for runners.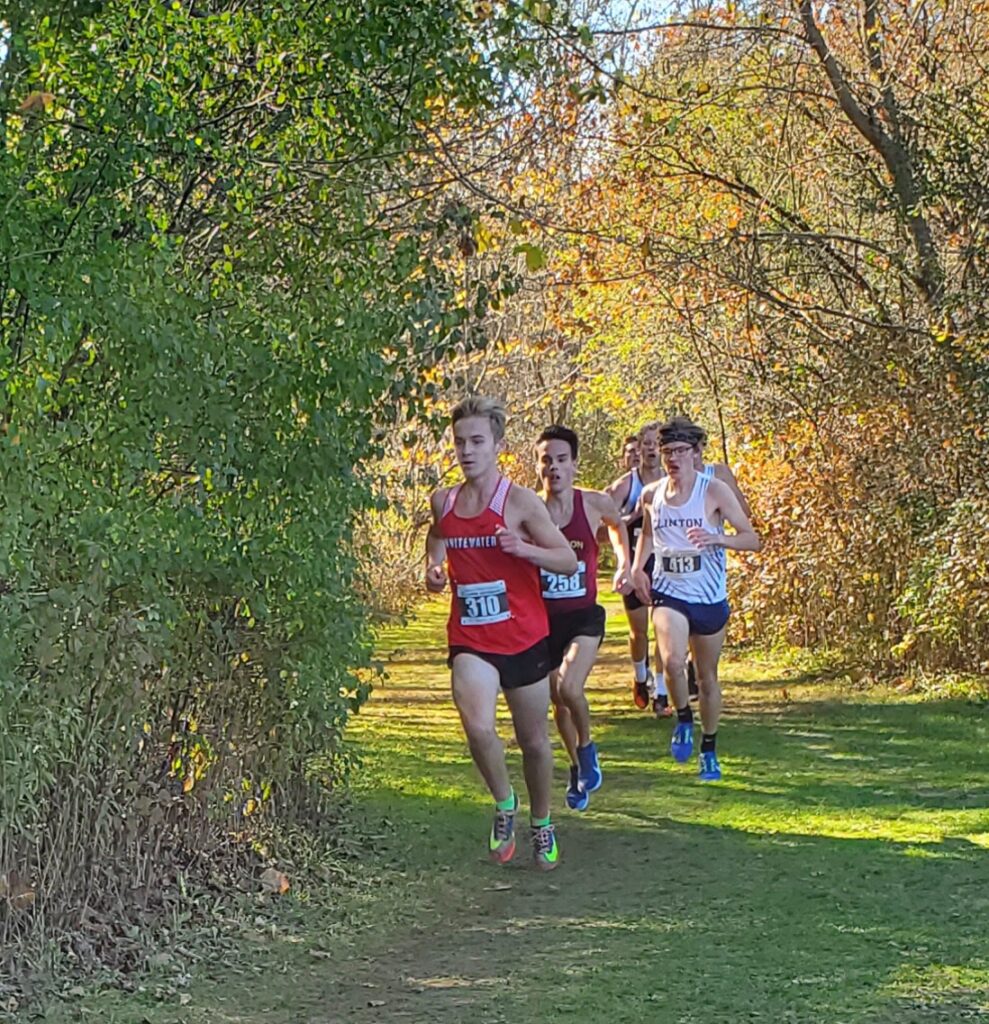 The boys were up first, and fans were treated to strong races from top to bottom. Freshman Jack Hefty was able to turn around what was a tough day at the conference meet last week and absolutely throttled the competition to finish 6th overall in 17:16, just 10 seconds off his season best on a much tougher course. He nabbed the fourth individual qualifier spot (the top 5 individuals not on the top two qualifying teams also go to state) and looked the best he has all season. Jack knew what was possible, didn't shy away from the opportunity, and trusted his legs to do the work that they were prepared to do. Senior Cooper Hammond put together a great race and finished in 26th place with a time of 18:41. Sophomore Nate Holden and Junior CJ Tomomitsu raced together and finished in 54th and 56th, respectively with times of 19:50 and 19:53. Freshman Miles Nickelsburg had a great race compared to the last few as did Junior Ben McCulloch. They came across the line in 78th and 79th with times of 21:21 and 21:27. Senior Andrew Rollette made the most of his final race in a Whippet uniform by running close to a lifetime personal best, running 22:32 and finishing in 90th place. The boys' team had a solid team showing and earned a 7th place finish overall out of 15 teams.
The girls' team continued their steady racing that they displayed a week ago at the conference meet and were led by Junior Caelyn Caputo who has modeled solid consistency in the back half of the race season. It doesn't matter how challenging the conditions are, or how difficult the course, she has been so steady. Caelyn finished in 35th with a time of 23:15. Junior Emma Weigel and freshman Nola Coburn found each other early in the race and it paid off in spades as Emma ran her second best time of the year, and Nola ran her season best, as they finished in 39th and 40th place with times of 23:40 and 23:42. Senior Sophie Walton was seconds off her season best time by running a 23:55 and took 45th place. Senior Gwen Truesdale had been working through some quad pain lately but was able to run her final race in a Whippet jersey to place 49th with a time of 24:29. Senior Olive Coburn ran her season best as well, placing 52nd in 25:03. Senior Jenni Villarreal ran her season best time when it mattered most, her final race as a Whippet, in 26:13 to place 60th. The girls' team earned a 7th place finish out of 13 teams.
The last team race is always a bittersweet day as we say goodbye to the seniors that have contributed an immeasurable amount to the program. Their work ethic, leadership skills, grit, guidance, steadiness, and humor are just a small glimpse of the things that will be missed most as they have concluded their days in a Whippet CC uniform. The staff is already eager to hear from them as they enter "the real world" and come back to visit or compete in the Dirk Seibold Alumni Meet in the future.
Full Results: http://wisconsinrunner.com/results/2021/2021stcatssectional/
Jack Hefty will be racing in the WIAA Division 2 State CC Meet on Saturday, October 30th, in Wisconsin Rapids, at the Ridges Golf Course. His race will begin at noon. Please congratulate the Whippets on tremendous races if you see them, and also wish Jack well in his first ever state race!
State Meet information can be found here: https://www.wiaawi.org/Sports/Fall/Boys-Cross-Country/Tournament#50481249-state-tournament-meet-information
Article and Photo Submitted by Chad Carstens
Whitewater High School Head Cross Country Coach
ccarstens@wwusd.org