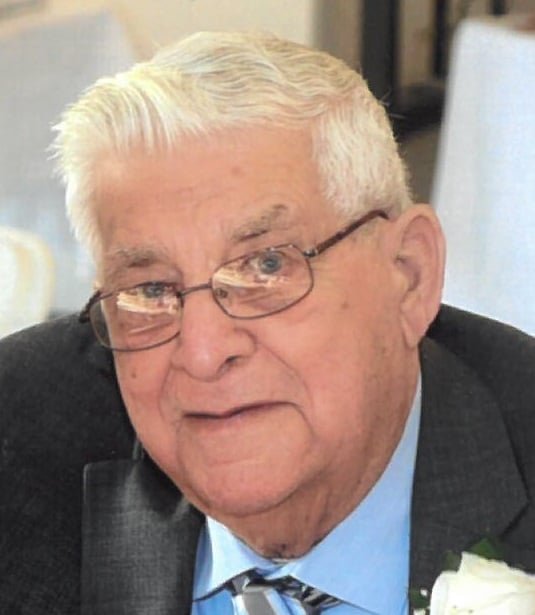 Harold Miles, age 89, of Whitewater, WI passed away on Friday, January 24, 2020 at St. Mary's Hospital in Madison, WI. He was born in LaGrange, WI on May 15, 1930 the son of Ruben and Norma (Green) Miles. He went to Whitewater College High. He served in the Army from 1947 to 1950. On September 9,1950 he married Darlene Cramer. He was employed at Hawthorn Mellody Dairy for 36 years. He was a member of the Whitewater Fire Department for 20 years.
Harold is survived by Darlene, his wife of 69 years. He is also survived by his son Jerry (Linda) Miles, and daughter Judy (Dennis) Fero all of Whitewater. He will be dearly missed by his grandchildren Stacy (Charles) Wendt of Cottage Grove, Shelly (Scott) Gaffner of Palmyra, and Scott (Lisa) Fero of Stoughton. He was a wonderful papa to his great-grandchildren Hailey (Brently) Bohn, Kristina (Chet) Trimborn, Sophie Wendt, Sadie Wendt, and Micayla (Kyle) Fero-Stauff. He recently was told that he would become a great-great papa later this year. He is further survived by his brothers Bill, Ray (Waverly), David (Joanne), Jim (Donna), sister-in-law Marilyn, brother-in-law Ronald Aarstad, and many nieces and nephews.
He was preceded in death by his parents, sister Margaret Aarstad, brother Robert, sister-in-law Dorothy Miles, nephew Gary Miles and a great-grand daughter.
Funeral services will be held on Thursday January 30, 2020 at Nitardy Funeral Home in Whitewater. Visitation will be from 9:30 a.m. to 11 a.m. with services to follow. Burial will be held at a later date.
Harold's family would like to express a special thank you to the Whitewater Fire and Rescue Squad and Davita Dialysis Center in Fort Atkinson.
In lieu of flowers, the family requests donations in Harold's name be given to the Whitewater Rescue Squad.
Nitardy Funeral Home is assisting the family.
www.nitardyfuneralhome.com