Fort Community Credit Union is donating funds to the Friends of Whitewater Aquatic and Fitness Center (WAFC) for the purchase of a defibrillator for the fitness area at the center.
"The Center has a defibrillator near the pool area, but not in the fitness room," said Debbie Oas, City of Whitewater Aquatic & Fitness Center Programmer. "We are so grateful to the Fort Community Credit Union and the Friends of WAFC for making this life-saving device available to our fitness-center patrons. Their safety and well-being is our top priority."
Fort Community Credit Union CEO, Susan Johnson, said, "An AED is an important life-saving tool.  When we read that the Whitewater Aquatic and Fitness Center was raising funds to purchase one for the Fitness Center, we knew that we needed to help.  The new defibrillator machine will assist the responder with critical life-saving measures."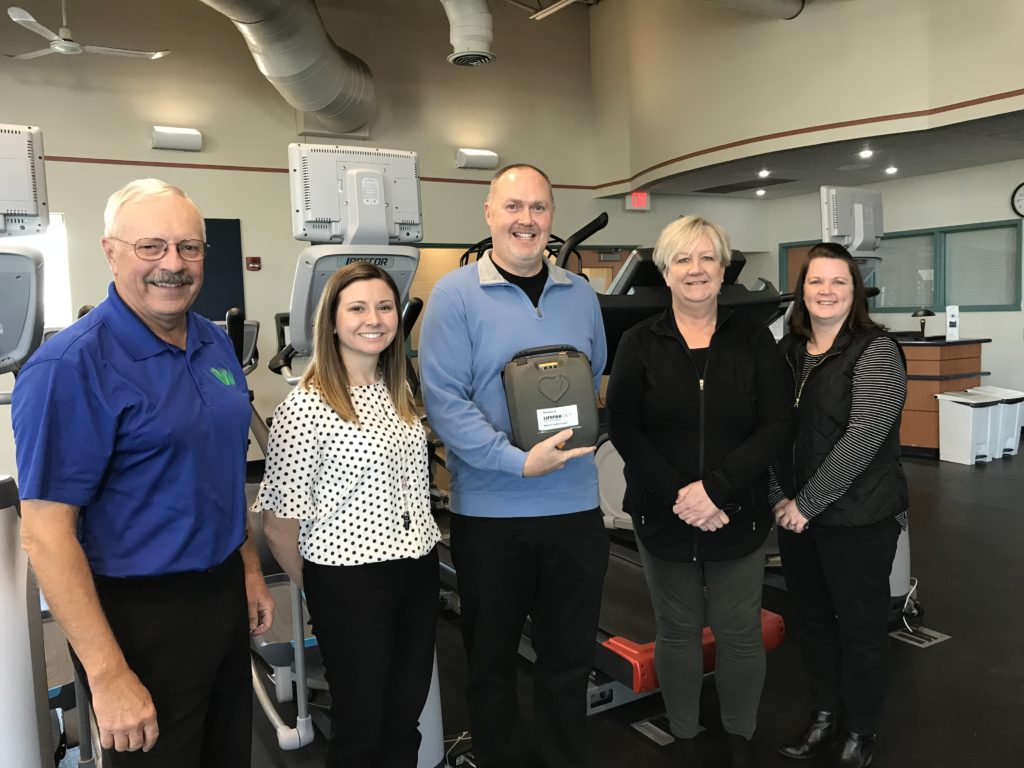 Friends of WAFC President, Ron Binning, said, "We are so pleased to be able to assist the Whitewater Aquatic and Fitness Center by facilitating this type of donation.  Thanks to the Fort Community Credit Union, the fitness center patrons will have access to an important, life-saving defibrillator."
The Friends of WAFC is made up of members of the community who support the WAFC to maintain and improve the services provided with the goal of bettering the lifelong health and fitness of the citizens of the Whitewater area.  2016-17 was a transition year for the Aquatic Center, as Whitewater Parks and Recreation took over running the building.  Many wonderful additions happened this year, with new fitness equipment installed, painting, new carpeting, and audio-visual equipment.  The Friends of WAFC transitioned to help with the Family Partnership Fund, which makes the pool and fitness room available to everyone in the community, regardless of income.  Families that wish to use the center but cannot afford the fees may apply for financial assistance to join.  In addition, the Friends Group worked with the Kiwanis and Rotary Clubs to provide towels for members to use in the center.  Also, donations were made in memory of a Whitewater resident, making it possible for low-income people to access swim lessons at a reduced price.  The Friends group also assisted with a new sign that sits near the tennis court to help direct people to the center.
All membership fees and donations to the Friends of WAFC are processed through the Whitewater Community Foundation, a partner in managing the funds that the Friends raise and distribute to the Whitewater Aquatic Center. Friends of WAFC can be reached via email at friendsofwac@gmail.com.