Under sunny skies, the Whippet CC teams competed in the Rock Valley Conference Championships at UW-Whitewater. With the recent rains it made for pretty soft conditions, even muddy in some areas, but a great atmosphere for high level racing.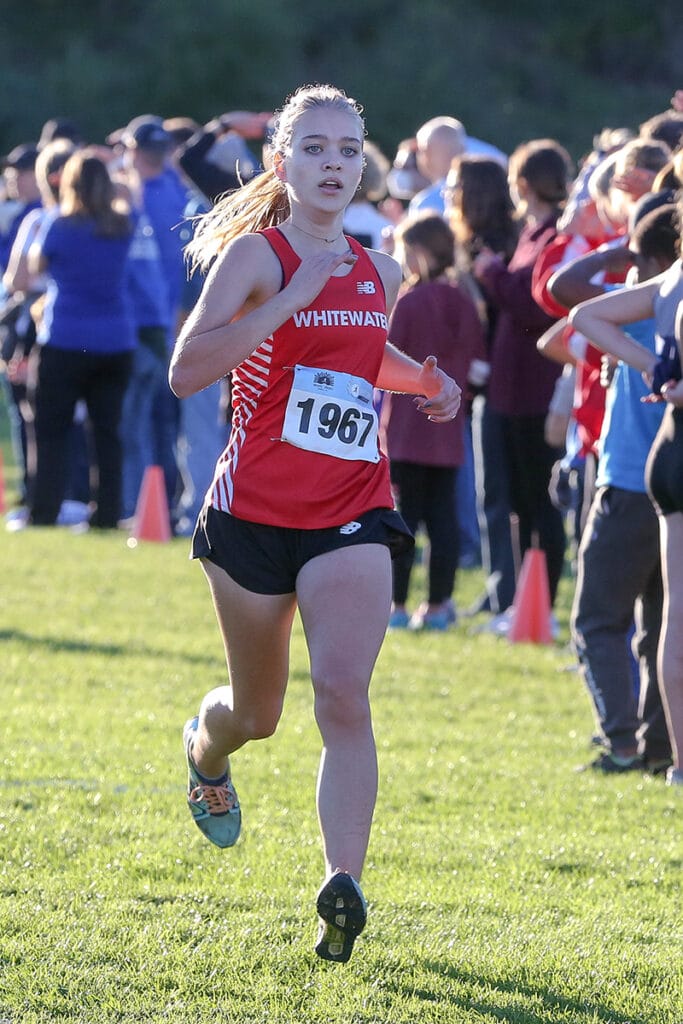 The boys' team shot off the line first and battled their way around the 3.1-mile course. Jack Hefty crossed the line first again for the Whippets as he secured his first all-conference honors as a freshman to seal off 17th place, good enough for a second-team all-conference honor and to bring home a medal. Jack finished his race in 19:37. Cooper Hammond ran a gutsy race and showed tremendous grit as he crossed the line in 26th with a time of 20:16. CJ Tomomitsu finished just outside the top 30 with a 33rd place showing in 20:42. Nate Holden was the team's fourth runner placing 37th in 20:50. The team's fifth runner was Miles Nickelsburg, finishing in 54th with a time of 22:09. Ben McCulloch was 61st in 23:10, followed by Andrew Rollette in 66th with a time of 24:40. The varsity team finished in 7th out of 10 schools competing.
In the JV boys' race, the team was led by freshman Onyx Thompson, who ran his second-best time of the year on the grueling UWW course to finish in 23:56, good enough for 31st. The boys' JV team also finished in 7th place.
On the girls' side, the Whippets were paced by Caelyn Caputo, who finished in 17th place to not only earn her first ever medal at a CC meet but at the same time earned a second-team all-conference honor! Caelyn looks strong and confident in her races, and it was nice for her to finish in an all-conference position after continually making small gains throughout the season. Sophie Walton ran a strong race and was just a few places off her goal of earning all-conference by placing 27th with a time of 25:15. Emma Weigel and Nola Coburn ran stride for stride much of the race and found themselves in 29th and 30th place with times of 25:28 and 25:29. Olive Coburn and Gwen Truesdale came home in 34th and 35th places with times of 25:55 and 26:30. Isabella Aranda rounded out the top 7 varsity runners in 43rd with a time of 28:09. The girls' team finished in 6th place out of 10 teams. 
In the JV race, the girls featured Jenni Villarreal who battled her way through a combined boys' and girls' field to take home the title of JV conference champ! Jenni completed her 5K race in 26:47. Running strong races on the JV team were Sami Van Daele who took 4th, Lucy Troxel in 6th, Evie Troxel in 8th, and Izzy Dieter in 13th. Once the team scores were revealed, the JV girls won their meet with 21 pts versus Brodhead/Juda's runner up score of 34. What a race by these girls!
The team will now shift their focus to the WIAA Sectional Meet on Saturday, October 23rd, hosted at UW-Parkside. The boys will race at 12:25, and the girls will be at 1:10. #1Family
Full Results: https://my.raceresult.com/183490/
Article Submitted by Chad Carstens
Whitewater High School Head Cross Country Coach
ccarstens@wwusd.org
Photos Courtesy of Bob and Peter Mischka