The annual Whitewater Arts Alliance Members Show (and sale) will be exhibited at the Whitewater Cultural Arts Center, 402 West Main Street, from Thursday, Nov. 8 to Sunday, Dec. 9. Except for Thanksgiving week, the gallery will be open Thursday through Sunday each week from 12:00 to 5:00 PM.  The Whitewater Arts Alliance invites the public to an opening reception on Sunday, Nov. 11 from 1:00 – 3:00 PM.  Viewing the exhibit is free of charge and open to everyone interested in the visual arts.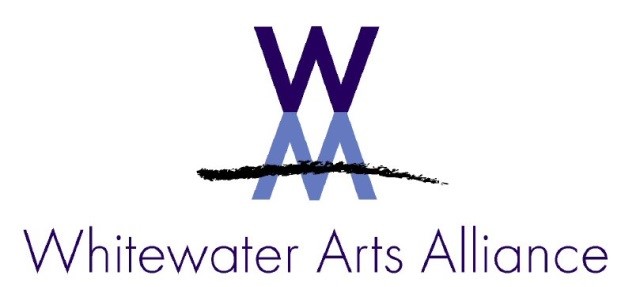 The WAA Members Show welcomes art pieces by Whitewater Arts Alliance members in any 2-D or 3-D medium completed during the last two years. The Alliance encourages each artist to submit three to four pieces.  All participants will be entered in a blind drawing for a free 2019 WAA membership.  The drawing will be Sunday, Nov. 11.
Anyone can become a member of the Whitewater Arts Alliance by completing a membership form and choosing a contribution level.  Check out www.whitewaterarts.org and click on "getting involved" and "membership" for more details.
From Nov. 8 to Nov. 18, show visitors will also have the opportunity to help select four pieces for the 2019 WAA note cards.  When visitors enter the exhibit, docents will give each visitor a set of four adhesive stickers. While viewing the art pieces on exhibit, the viewers will place one or more of their stickers on the white cards beside their favorite pieces.  Photographs of the four pieces with the highest number of stickers (votes) will be printed as note cards.  After the close of voting on Nov. 18, Virginia Epps will notify the winners.  At about 2:30 P. M. on Sunday, Dec. 9, a WAA representative will announce the viewers' choices.  The Whitewater Arts Alliance is pleased to give the members whose pieces are chosen for the note cards a set of 12 cards.  If all systems work well, the note cards will be available to the artists and for purchase on Dec. 9.
Members of the Whitewater Arts Alliance are to bring their art to the Cultural Arts Center gallery on Sunday, Nov. 4 between 4:30 and 6:00 PM.  Artists are to pick up their art pieces after the note card distribution on Sunday, Dec. 9 at about 2:30 P.M.