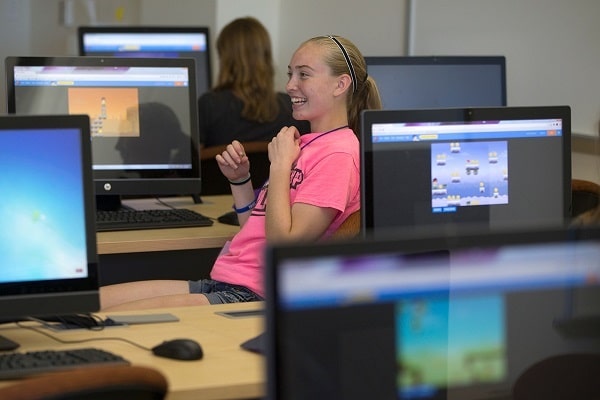 Who: 6th – 9th grade girls (and their adults) who have an interest in STEM
What: Exciting hands-on workshop with multiple sessions to customize her day to reflect her passions
Where: University of Wisconsin-Whitewater
When: Saturday, 3/14/20, 8:00 a.m. – 3:30 p.m.
Why: To encourage girls and their love of the sciences, math and engineering. To empower women. To change the world.
How: Low $10 per participant registration fee made possible by a group of generous sponsors
Tech Savvy 2020 will be held Saturday, March 14, 8:00 a.m. – 3:30 p.m. on the UW-Whitewater campus. Girls in grades 6-9 will experience the excitement of STEM (science, technology, engineering, and math) careers through hands-on workshops led by professional women in STEM fields. Tech Savvy is a collaborative project between AAUW-Fort Atkinson, AAUW-Janesville, and the University of Wisconsin-Whitewater.
Highlights
A slate of 11 hands-on workshops will be offered on topics as diverse as extracting DNA, building computer circuits, engineering a cell phone stand, programming robots, analyzing light with spectrometers, identifying antibiotic producing bacteria, analyzing crime scenes, astrophysics, and more.
Parents Invited
There will be a parallel track for parents/mentors of the girls to learn about the opportunities for women in STEM careers and how to encourage their daughters as they plan for education beyond high school. There are openings for 120 girls and 120 parent/mentors.
Keynote Address
The keynote address, From Pearls to Plasma Physics: With STEM, the World is Your Oyster, will be presented by Nuclear Engineer Abbey J. Donahue, Engineering manager for SHINE Medical Technologies in Janesville. Abbey will share her background as a woman in a STEM career and explore surprising opportunities in STEM fields with attendees.
For more information and to register online, click here and then select Tech Savvy.
For further information please contact Carole Salinas, Tech Savvy Program coordinator at csalinas3767@gmail.com.