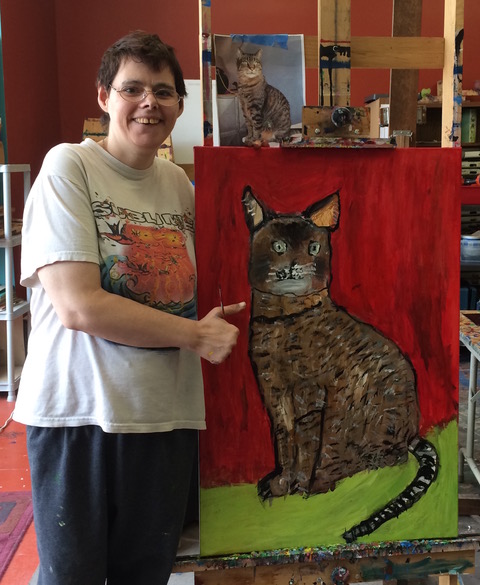 Jessica Barden has been a student at Studio 84 for six years and has developed her talent for painting pet portraits. She is one of several students who is making her art into a business. Here is what Jessica had to say about her time at Studio 84, "It makes me feel good that I could have a job out in the community with the stuff I'm learning at the studio. Makes me feel really good that I could have my own business in art. I feel proud of myself and it makes me feel good that I have something going in my life. People love my artwork and it makes me happy, and jump for joy and makes me proud. I thank God that I know how to do this kind of work. I thank God Studio 84 has taught me these things."
Over the years, the staff has noted, that Jessica is learning to deal with frustrations and how to use those frustrations as learning experiences not just with her art but in everyday life as well. Director, Deborah Blackwell, states that she's also learning to operate the cash register to check people out and loves giving tours of the gallery and store.  Blackwell says, "her confidence in what she does is growing, she's learned so much with painting that she is often seen helping others too."
As part of the vocational training program in the arts, Jessica now has her own website, Facebook page, and email and has become quite proficient at using these programs.  As a natural process of using these programs, she is also improving her spelling and reading abilities. She works with Gateway Tech intern Stacy Whetlow with her reading skills by reading books together. You can visit Jessica's website at jjbarden79.wixsite.com/artist.
Studio 84 in Whitewater is a non-profit art studio that provides experiences in the arts for the community. They specialize in the creative and vocational development of people with disabilities, including those with Autism, physical disabilities, cognitive limitations, and mental illness. The studio is open to all ages and all abilities.
For more information visit studio84inc.org or check us out on Facebook.