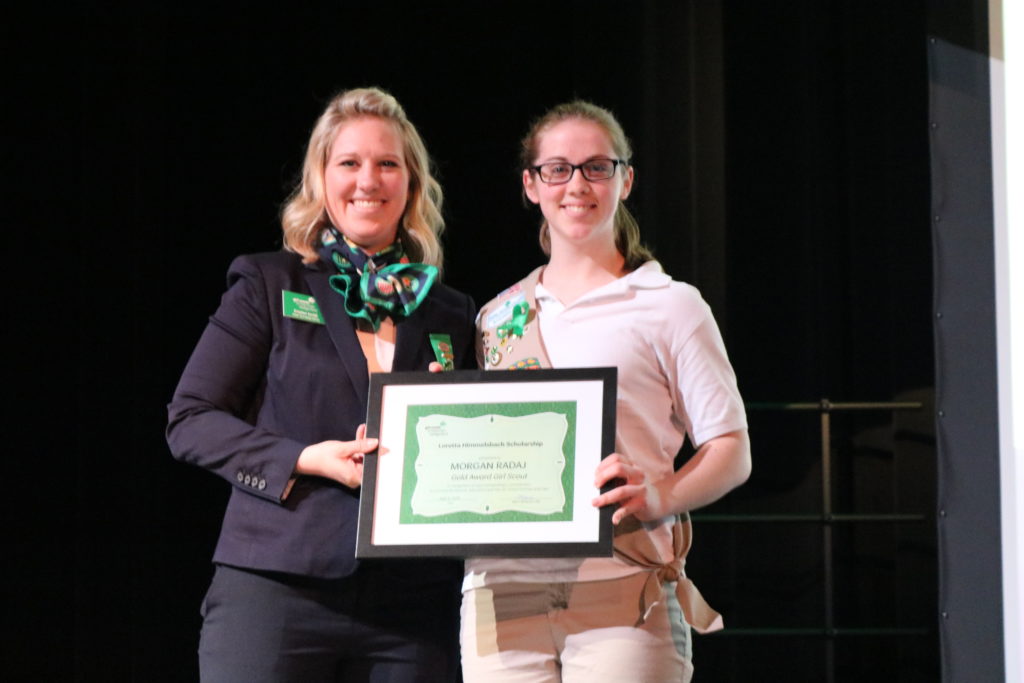 Morgan Radaj, a senior at Whitewater High School, received the Loretta Himmelsbach Scholarship. This scholarship is endowed by its namesake – a lifetime Girl Scout who led the Black Hawk Girl Scout Council for many years. Loretta established this scholarship to honor a Gold Award Girl Scout who has demonstrated extraordinary commitment to community service, education and the Girl Scout Promise and Law. Morgan earned her Girl Scout Gold Award when she was a freshman in high school (the average age to earn the Gold Award is 17!) Morgan's ambitious project showcased her leadership skills and involved multiple components to address feeding a hungry world – a key feature of her project was when she organized more than 500 volunteers to pack over 100,000 meals that were shipped and distributed to needy families in Kenya.

Morgan stated, "Girl Scouting shaped me and the foundation of my life and morals. I will always be a Girl Scout. No matter how far I go, I am surrounded all around the world by my sisters. I will forever be a part of that sisterhood of girls who know that the world will never change for the better if we don't do something about the problems."

Morgan is among four girls in Badgerland's 23-county jurisdiction who received a Girl Scout Scholarship this year. Morgan was honored and recognized at the Girl Scout Awards Ceremony in April which also celebrated this year's Gold Award and Silver Award honorees. "There is something so special when we get to see, in person, the significant impact this organization is making on our girls, and in turn, the impact the girls are making on their communities," said Girl Scouts of Wisconsin – Badgerland CEO Marci Henderson.
According to a study by the Girl Scouts Research Institute, Girl Scouts who earn the highest awards receive greater lifetime benefits than their peers, reporting a more positive sense of self, more leadership experiences, and greater life satisfaction, life success, community service commitment and civic engagement.
"These girls have risen to high challenges," Henderson added. "They've distinguished themselves through determination and a sincere drive to make the world a better place. They have demonstrated great leadership. They are making a difference. They exemplify what it means to be a Girl Scout."
Girl Scouts of Wisconsin – Badgerland Council serves more than 7,300 girl members in 21 counties in south-central and southwest Wisconsin, as well as Houston County in Minnesota and Allamakee County in Iowa. The council has service centers in Madison, La Crosse, Platteville and Janesville. For more information click here .