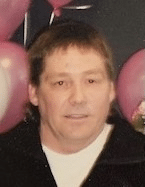 John Andrew Gregoire, 59, of Whitewater, WI passed away unexpectedly on Saturday, September 18, 2021 at his home.
John was born December 4th, 1961 to his parents Donald and Linda Gregoire. John worked as an Equipment Engineer in the road construction industry for several years and also served as a firefighter for the Whitewater Fire Department. He was blessed with two daughters; Cami and Cary Gregoire, whom he loved dearly. John was very proud of his daughters and considered them the light of his life. He also loved NASCAR and his favorite drivers were Matt Kenseth and Tony Stewart. John will be greatly missed by the friends and family that he left behind.
He is survived by: his daughters, Cami and Cary Gregoire of Whitewater, his brother and sister-in-law  Don and Jill Gregoire of Whitewater, his sister Brenda and her husband Carl Kienbaum of North Fond du lac, and a number of nieces, nephews, other relatives and friends.
He is preceded in death by his parents.
A Graveside Service will be held to honor John's life at 1:00 p.m. on Sunday, October 10, 2021 at Hillside Cemetery in Whitewater, WI.
Gibson Family Funeral Homes of Palmyra and Eagle, WI is serving the family. To place an online condolence please visit gibsonfuneral.com