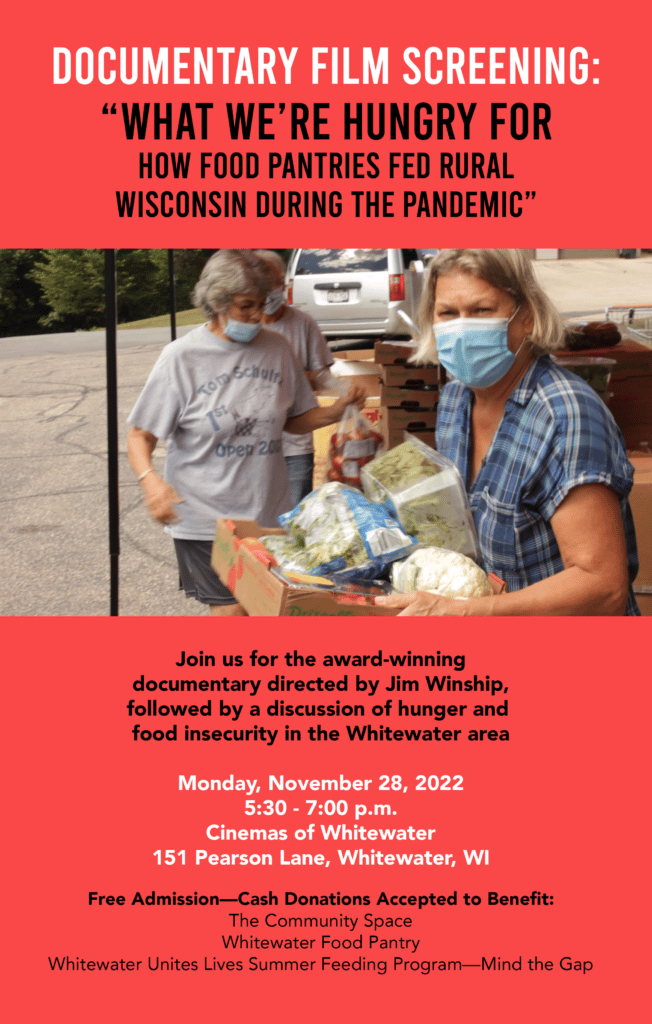 There will be a free showing of the award-winning documentary, "What We're Hungry For: How Food Pantries Fed Rural Wisconsin During the Pandemic, on Monday, November 28, 2022, from 5:30-7:00 p.m. at the Cinemas of Whitewater, 151 Pearson Lane in Whitewater. The screening of the documentary will be followed by a discussion of hunger and food insecurity in the Whitewater area.
This documentary was directed and co-produced by Whitewater resident Dr. Jim Winship, with the videography and film editing by Whitewater High School graduate Parker Winship. The film chronicles the response of five rural Wisconsin food pantries to the unprecedented needs of their communities during the coronavirus pandemic. The stories of how these pantries responded to hunger and food insecurity during this crisis reveal the vital role their efforts play in the wellbeing of their communities and provide a lens to look at longstanding underexplored issues surrounding hunger in rural Wisconsin. What We're Hungry For was recently honored at the Ceres Food Film Festival with the Moved Us Most Award.

Cash donations may be made at this event to The Community Space, Whitewater Food Pantry, and Whitewater Unites Lives Summer Feeding Program — Mind the Gap.
For more information, contact Jim Winship at jim@beechwoodtrue.com, 262-215-1492.